I have done this before but I wanted to make sure that I really didn't forget anything at all whatsoever for my race on Monday so have started planning what to pack for Milton Keynes Marathon today…with four days still to go!  I thought I'd list everything on here in case it helps anybody else who is perhaps running their first marathon and unsure what to take.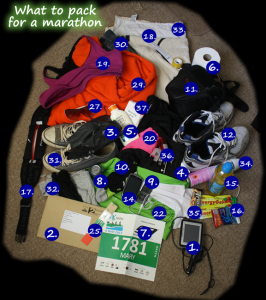 PRE RACE:
1. Satnav/map – and one that works!  You want to arrive at the right starting point!
2. Race pack – contains all the vital info you will need for the morning of the race.
3. Bin bag – this will keep you warm if you are standing on the starting line for a long while before the gun.
4. Vaseline – to prevent chaffing!
5. Suncream – especially if it's a summer race.
6. Loo roll – Portaloos are horrible.  Road race portaloos are a million times worse!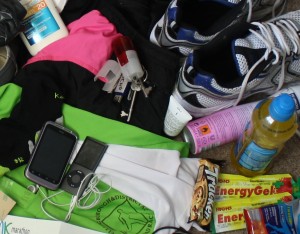 FOR THE RACE:
7. Race bib – Your result won't be recorded without one!
8. Garmin – To keep track on your pace and ensure you are on target for your goal time.
9. iPod – Especially if it's a smaller marathon with not very many supporters.
10. Running socks – To prevent blisters.
11. Camera – Either a mini one for yourself to pop into your belt/pack or one to pass over to your spectators.
12. Trainers – Unless you fancy running 26.2miles barefoot?!
13. Safety pins x4 – To hold your number in place.  Any less than four and you will be annoyed after 2.2 miles!
14. Phone – In case you can't find your friends after the race.
15. Energy drink – To keep you going until you hit an aid station.
16. Gels/jelly beans, etc – To provide that extra boost of energy in the race.
17. Race belt – To hold as many of these items as possible during the race.
18. Pace band – So that you can judge if you are on track or not to hit a goal time.
19. Sports bra – To keep the girls in place!
20. Shorts – In case it's hot.
21. Running tights – In case it's cold!
22. Long-sleeved tee – In case it's cold.
23. Short-sleeved tee – In case it's hot!
24. Support!  –  ESSENTIAL!!!
25. Timing chip – You won't receive an official finishing time without it for most long distance races.
26. Hat – To keep the sun off of your face.
27. Sunglasses – To keep the sun out of your eyes.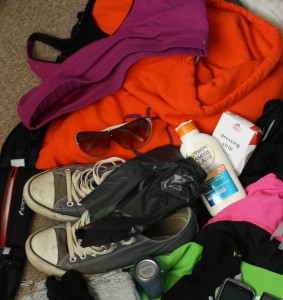 POST RACE:
28. Money – Races tend to have plenty of stalls around to tempt you to purchase running goodies.
29. Hoodie – To keep warm after your race body temperature drops.
30. Jeans – To keep your legs warm.
31. Comfy trainers – Or even flip flops.  Give your feet a break now!
32. Fresh socks, pants and bra – Because the old ones will be smelly and sweaty!
33. Towel – You probably worked up a bit of a sweat at some point on the course!
34. Deodorant – To help with the smell!
35. Sandwich or chocolate – For a quick boost until you can grab a full meal.
36. Spare set of house keys – In case you were separated from your partner/house key holder.
37. Plasters – Just on the off-chance you did get some blisters on the way round that course.
Have I missed anything out?…