LONG weekend ahead!  Bank holiday monday and a marathon to come.  Therefore THIS happened!…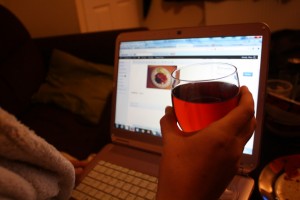 5 mile GENTLE jog with Dan followed by WINE, BLOGGING, DRESSING GOWN and ROCKING OUT to 1990s/early 2000s music videos! 

  Perfect Friday night in!
We have covered P.O.D., Travis, Linkin Park, Sum 41, Britney Spears, Papa Roach, Eminem, Puddle of Mud, Christina Aguilera and now moving onto Uni songs…System of a Down, Biffy, Placebo, Goo Goo Dolls, My Chemical Romance…etc.
Dan and I used to be into our music so much more than now.  Uni times were good times!
And then Dan played this…
When I first heard this at the cinema last Autumn it actually made me shudder inside.  I'm such a loser!  And then when I made the Runner of the Year videos for our Christmas running club presentations I used this song for the same effect!