Thinking about it afterwards, it was probably a little silly to agree to attend a friend's hendo in Manchester (3 hour drive) the day before a marathon.  Come to think of it, my ultra is just two days after the same person's wedding.  I clearly need to post my race schedule further in advance!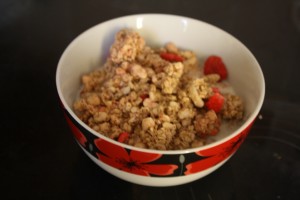 I got up early, chowed down on some cereal, checked all was packed for Monday and moved my clean washing upstairs, which Bella promptly curled up on…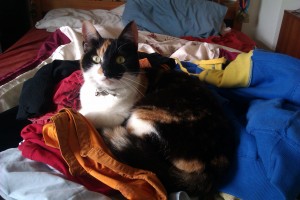 …and then cleaned out my car as I was giving a lift to another hen.
Apparently I like to store old, no longer wearable work shoes in my car…I found two pairs on this occasion!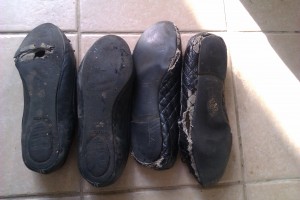 I set off about 10am.  I debated what to do about lunch but in the end decided that I could always pick something up at a service station if we didn't have lunch available to us.
I picked up the hen (Dee)'s friend Anna who I had not met before on the way and we both decided we were hungry before arriving so pulled up at a service station just outside of Manchester where I chose a chicken salad sandwich on brown bread and a bottle of what I thought was blueberry and pomegrate water.  It was, but it was sparkling water.  I really can't stand bubbles but knew I needed to drink as it was pretty hot on Sunday.  Each time I took a mouthful I let it enter my mouth slowly so as to produce minimal squeeks of shock over the bubbles popping in my mouth. 

When we arrived, Dee presented us both with these beautiful bags filled with lots of goodies!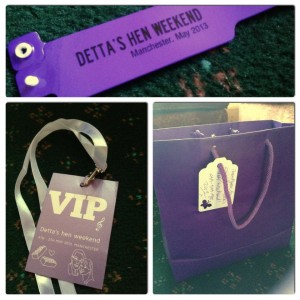 Sticking with the theme of the wedding (festivals – both her and her husband-to-be are big festival goers) we each received a laminate with the program for the weekend (even though I hadn't been there for the whole weekend of activities – the hendo actually started on the Friday night) and a wristband for the weekend.  When I got home later and pulled everything out of the bag I discovered everything below…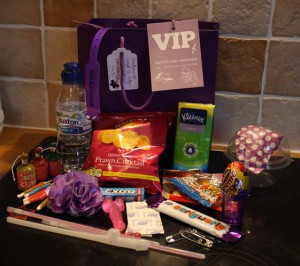 There were tissues, party poppers, a Cadbury's Creme Egg, a mini Curly Wurly, three mini packs of mini Haribo sweets, some safety pins, a hairband, a bag of crisps, a bottle of water, some cocktail parasols, a willy shaped cocktail stirrer, some chewing gum, a shot glass, some plasters and some glow sticks.  I have already Pinterested this ready for my wedding (whenever that will be!)
There were sixteen of us in total, with only fourteen of us actually on the segways and two hens that were feeling rough after the night before and had volunteered to be photographers.  The guide got us each to hop on one at a time to begin with and make it go forwards, turn around and then go backwards before letting the next person on.  We each got padded up with elbow and knee pads and a helmet before hopping on for our turn.  Afterwards they let us have a practice on the field before setting up some obstacle races in teams.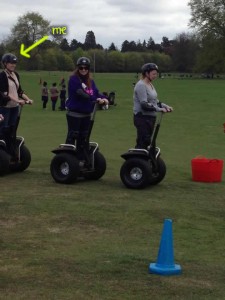 We split ourselves into two teams of seven with the first race being to get from one end of the field to the other, go around a cone and head back, high five the next person and head to the back of the line.  The races got progressively harder, including slaloms between cones and then slaloms whilst carrying a jug of water which had lots of holes in with the idea to transport as much water as we could to the other end of the field as quickly as possible.  It was loads of fun!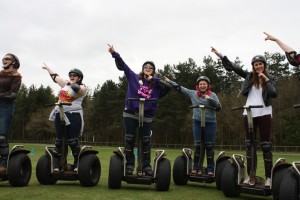 I was the first to fall off… [pic to follow…waiting for it now!]  But there were about five of us that fell off altogether.  When I fell off I was a bit panicky that I would damage myself and be unable to run on Monday but there was no way I was not going to carry on with the segway experience after falling off just 10 minutes into the session!  I landed on my side but it didn't feel bruised at least.
About an hour in the guide lead us into the nearby woodland and onto a track of about 400 metres which wound round lots of trees and over tree routes.  We went round this a few times, but it got a little boring after 5/6 times so we headed back to the field.  My feet were starting to hurt by this point – really ache from changing the pressure of my weight on the steps so I ended up sitting out for a little while, being very conscious that I had at least 26.2 miles to run the following day!  Turns out I wasn't the only one with achy feet and most of us ended up sat on the grass chatting and messing around for the last 10/15 mins of the two hour session.
We said our goodbyes and I headed home, dropping Anna off on the way back and munching on this cupcake that Dee gave us.  Yum!  Vanilla flavoured with jam inside and a little purple butterfly on top!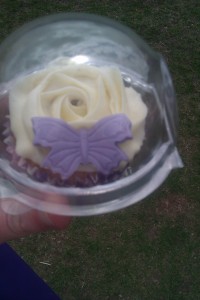 I wasn't very hungry by the time I got home, just very, very tired and had a really bad headache growing (probably from lack of water – v.silly the day before my race).  I quickly fixed myself a ham and pineapple pizza because I knew my stomach could cope with the simple meal for what I was asking of it the next day.  As soon as I'd finished the pizza I headed to bed for a nap to try and shake off my headache.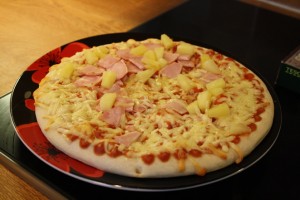 Unfortunately when I woke up an hour later it still hadn't disappeared and I was no longer sleepy so ended up staying up with Dan to watch Match of the Day until midnight with a bad headache.  When we both went up I feel straight asleep with my alarm set for 7am the next morning.
Reference: powerboardexpert.com.