There's so much I want to write about, which is why this post has taken so long to get up!  I'm going to split it into two parts so that it doesn't go on for ever and ever!…Here's part #1!
On Monday I ran (well, ran/walked) 26.2 miles for my second marathon in Milton Keynes.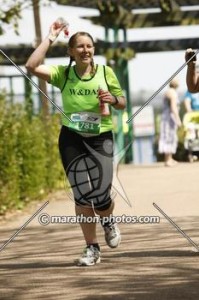 Milton Keynes Marathon was HOT.  The chart I found here tells me that it got up to 21 degrees at it's highest!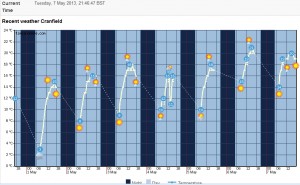 And trust me, my legs knew about it by the end of the day…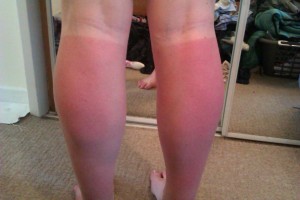 I was a little nervous pre-marathon.  Lots of people knew I was running and I hate how everybody always wants to know your time as soon as you finish.  With club members that's fine, but with non-runners who only hear times like 2h 20m from watching The London Marathon once each year, 4h 45m would sound like I put no effort in at all!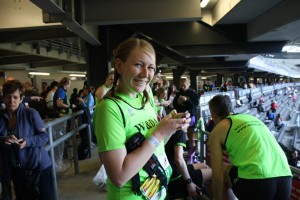 I quickly found the rest of my club when I arrived just before 9am.  They were just inside the entrance at the MK Dons Stadium.  Dan had offered to drive me over and I'd already put my chip on my shoe, gels in my belt and pinned my number to my vest.  It was already very hot outside so we took shelter in the stadium until about 9:40 when we nipped to the toilet one last time and then headed over to get in line for the race start.  I also said goodbye to Dan at this point who was all bagged up with my stuff and ready to become club race photographer for the day…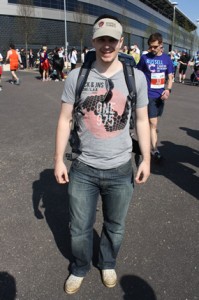 Maria asked if she could run with me.  I said yeah, sure but that I wasn't sure we would be running the same pace.  She wanted to set out at 12mm but when the gun actually went she was gone at a 10mm pace so I actually let her go ahead within half a mile of the start!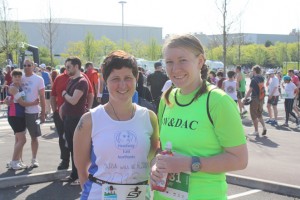 At the start of the race I heard a rumour about there being a 30 second silence for the victims at Boston although this was never confirmed and when the gun went at the start we didn't move, but people weren't silent either as most of them would not have heard about the planned silence – there had been no email sent round/no advertising, etc.  There was no second gun/sound at the end of the 30 seconds either, we just started running.  From my position towards the back the delay could have just been bottlenecking from the crowds of runners at the front.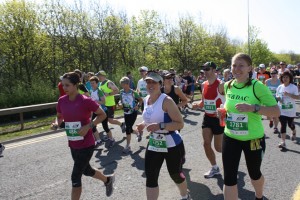 I found it pretty easy to settle into a 10:45-10:50 pace almost straight away.  To be on target for my gold goal of 4h 45m I needed to run at a constant 10:52 pace throughout.  I wore a printed out race pace band on my right wrist so that I could keep on track, but I also had my average pace displayed on my Garmin for this race.
The first six miles were different to last year and went through closed roads through town.  There were several sections where you passed faster runners heading back in the other direction and I got to see the lead runner hit the six mile point in just under 25 minutes!  I cheered the first 10 or so runners headed back in the other direction before returning to concentrate on my own running.  It started out so well…the first seven miles I was dead on target (10:46, 10:50, 10:48, 10:43, 10:37, 10:43, 10:48).  I had planned on running with the 4h 45m pacer and was excited to actually have pacers in the race but I never even saw the 4h 45m pacer at all.  I was just behind the 5hr pacer still at mile 7 and knew that he was going too fast.  I would have come in sub 4h 45m at the speed I was running and when Dan saw me to take some pictures at mile 6 I let him know I was nearly a minute ahead of time and still feeling strong.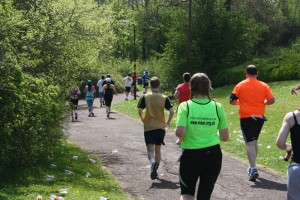 Up to this point I had passed several walkers.  In fact I had passed lots of people walking (I got the impression through exhaustion rather than planned walking) from before the mile 2 marker! – it was now gone 11am and incredibly hot by this point.  There were water stations every three miles, and although I didn't take any water at the first station which was at mile 3, I took water from all of the other stations.  I would drink half and pour the other half over my head to cool myself down, knowing that I heat up incredibly quickly and that I don't tend to run well in the heat anyway.
Just after the mile 3 water station there were loads of water bottles scattered over the road and one of the guys concentrating on staying with the pacer tripped over one.  I went to check he was OK and the pacer helped him up and he carried on.  A while later at mile 14 the same guy was on the phone and tripped over some yellow and black tape that was highlighting the concrete that had smashed and was sticking up in the middle of the track.  Again I stopped to check he was OK!  I passed him not long after this and didn't see him again so I hope he didn't have any more accidents!
Just before mile 6 somebody out walking their dog on the other side of the road lost control of it and it came bounding across the road infront of us all, really excited that there were so many runners to chase and play with.  One of the runners helped grab it until the owner could cross the road and get it back onto it's lead again.  Could have been a nasty accident though.
Mile eight hit and I started to struggle.  The heat had soared by this point and every three miles was not close enough for the next water station for me.  Dan had mapped out his own route to spectate and I knew I wouldn't be seeing him again until just after the half marathon point.  I can remember thinking "I can't believe I'm not even halfway yet!"
At about mile 8.5 this amazing fellow was on the street with his hose…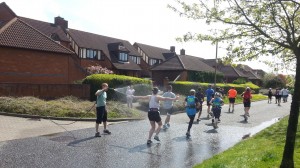 …It was just what we needed and I thanked him loads!  Afterwards though I worried that my legs were starting to rub where they had gotten wet so rang Dan to ask him to have some vaseline out ready at the next viewing point.  He told me afterwards that he panicked when I rang him that something had happened to me and that he couldn't get his phone out of his pocket quick enough!
I saw Dan just after mile 13.  My miles 8-13 had slowed dramatically and despite not wanting to walk at all this marathon, I could not run straight anymore in the heat (11:17, 11:42, 12:37, 11:34, 12:03, 14:53).  I knew I was really, really struggling.  I had already passed two members of my club on the side of the road that had dropped out due to the weather conditions but I was determined to get through it no matter how much walking I ended up doing to get round.  When I saw Dan I stopped with him briefly to let him know that I was feeling awful but that there was no way I was going to give up on the race, although he should delete the picture he had taken of my pace band at the start as it would be useless at helping him guess where I was going to be when.  When I left Dan it was comforting knowing that I was going to see him again just after mile 16 – barely 3 miles later.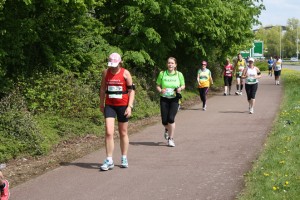 Almost everybody around me was walking by this point and Dan commented on how many people he had seen walk.  Just two miles after the relay team handover a little while before I had seen relay members walking, unable to cope with the heats that were probably hitting their highest of 21 degrees by this point.
[More to come…]