So writing up my MK marathon experience seemed to take a lot out of me and I feel as though I have been a little MIA the past few days!  If you haven't checked my report out yet, check out Part 1 and Part 2 here…
I have had a brief chance though to think through my racing plans for the rest of the year.  I obviously have the upcoming Shires & Spires Ultra on 2nd June.  I feel as though the pressure is not so high for the ultra and I'm looking forward to enjoying a fun day out with my club.  My race email information pack arrived on Tuesday and got me looking forward even more to the event.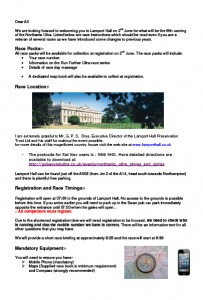 I do want to fit another marathon in this year and after my disappointing time on Monday and the support I received from my club mates it made me even more determined to not let them down and prove that I can be a much quicker runner than I showed Monday.  I had a scout around for local(ish) marathons in June/July but there doesn't appear to be any.  As I am running the GNR in September I didn't want to damage my chances of a half marathon PB there by running too strong at a marathon in August so avoided marathons listed then.  I quite liked the look of Mablethorpe in October and think I will be entering this at some point this week.
Short race wise, I am planning on entering the rest of the EMGP series with the hope of gaining some PBs at the shorter distances.  Everybody told me last year my speed over short distances would dramatically improve after coming back from a marathon.  That never happened but I'm hoping to put in the right training for it to be able to achieve some PBs this year as my 10k PB of 58m 35s is from 2011 having not raced that distance since.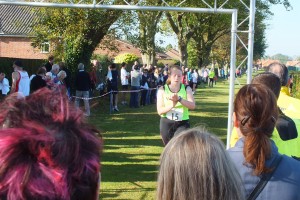 (This is the one picture I have from that race)
I have been running five days a week since Christmas which has included a long run, tempo, hill reps or speed and recovery session each week.  I am to continue with this over the Summer.  As a teacher, I feel that I will probably be able to dedicate more of my time to running during the Summer when I am not at school and this will help me to achieve my goals for the GNR and an Autumn marathon.  I had aimed on returning to running club tonight, but another club runner talked me out of heading back this early, and instead I am planning on resting my muscles until a nice easy 6-7miler on Saturday morning and then of course the Write This Mile run with Scott Overall on Sunday!  (CANNOT WAIT!)  I shall return to club next Tuesday, with the first of my EMGP races, the Rugby 6 on Wednesday night.  It's not often that you come across a 6 mile race and I am hopeful of beating my time from last year of 58m 31s to bank another PB.
And to finish this much longer than intended post, here is the blog post from Helen Reardon, one of the Women's Running magazine 26.2 winners aiming for a 4:20 finish at MK on Monday.  She also struggled severely in the heat and with stomach problems and ended up finishing in 5h 31m.
Lastly, the video I put together to show my Mum who couldn't make it on the day and who is still desperately trying to attend one of my races so that she can see me run…