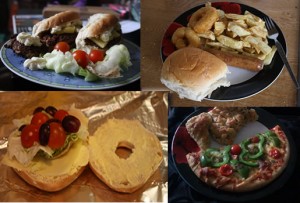 Here are a few catchup eats from the past few days…On Tuesday evening Dan handmade some of his beefburgers again.  We had no burger buns left, so used hotdog buns instead.  It worked!  I of course had salad on the side.  Lunch on Wednesday was a cheese salad filled bagel.  Yum!  I'm addicted to salad sandwiches with grapes in at the moment.  Then, for the first time in 2013, and probably nearly a year I suggested we picked up fish and chips on the way home.  I was starving on Wednesday!  Maybe a delayed hunger from Monday?!  I got a sausage and chips and Dan passed over the onion rings that came with his meal deal.  I still wasn't really feeling full after finishing this…not sure what was going on with my body!  Yesterday's breakfast was back to regular cereal but for tea Dan put in a cheesy pizza and topped my half with pesto, peppers and cherry tomatoes.
I've been very snacky just lately and yesterday I was rubbish for lunch.  I never had an official lunch but picked at a Tracker bar, some of the mini Haribo packs that I got at the hendo at the weekend, a little bit of Ben & Jerry's Chocolate Brownie FroYo and a piece of white chocolate.
All morning I had been stressing over a job interview that I had for a job in an Independent School.  I ummed and ahhhed for a long while before applying for the job, and had mixed feelings when I found I had been shortlisted.  The job is for a part-time position to teach Computing to mainly Key Stage 4 students.  To go part time has been in my head for a little while now as I have several other areas that I would like to explore at the moment, which working full time as a teacher will not allow.  (In my current job I arrive at 7:10am and leave at 5:45pm each day, with 30mins travelling each way.  Add on top of that 35-40 miles of training runs, maintaining the four websites for companies and my running club and it doesn't leave me with much energy for anything else!
Luckily I've always been sensible with money, having always had at least one job since the age of eleven and I managed to buy my own house in 2010.  It was a repossession which needed a lot of work doing to it which meant that it was much cheaper than other properties on the market and with my Dad being a builder and generally all-round lovely fellow meant that I could put my life savings into the house and pretty much guarantee to make some money back on it when selling it in the future.  That was the initial plan – to sell, but when Dan moved in we fell in love with the house, and the area and are still here!
House at the beginning…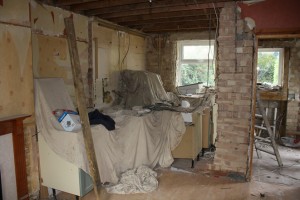 House now…!  (Well, actually in 2011…I've accumulated too much stuff for it to look quite like this now!)…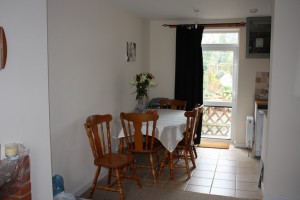 Anyway, I digress…basically it means that we don't have to panic over making payments each month and with our current salaries with both of us in full time work it has meant that we have been saving quite a lot on the side with the idea of buying more houses in the future.  Right now though, I find it hard to keep on top of everything as well as travelling back to see my Mum quite frequently who is terminally ill but lives a two hour drive from our house.  When I discussed the idea of going part time to Dan I expected him to hate it but he was very encouraging that I should apply.  So I did.  Then I got an interview and I was surprised to do so.  Even as late as Tuesday night I was debating whether or not to spend the time writing a lesson plan or to pull out of the interview on Thursday (yesterday).  In the end after more discussion with Dan I wrote a lesson plan and got together a pile of resources (I like creative lessons!) and headed to Argos on Thursday morning to purchase a new printer to print out my lesson plans on.
Dan had chosen the printer he wanted for our house…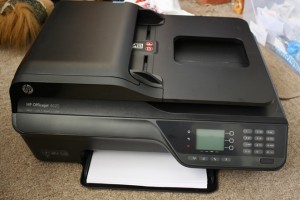 Shouldn't take too long to set up right?…I'm an ICT teacher!  TWENTY MINUTES I was faffing with the ink cartridges trying to fit them into their slots.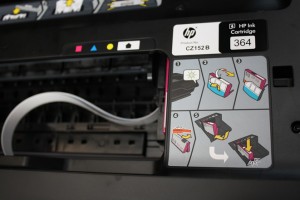 I was getting really stressed out knowing that it was getting close to my interview time (2pm…what a strange time to interview for a teaching post?!) and rang Dan to strop down the phone at him.  I was banging the cartridges around having a proper sulk whilst also a silent panic that I wouldn't be able to sort it in time…before realising I was holding the cartridges upside down to put them into their slots!  Oops!  Dan had a big apology afterwards!
I prepped the last of my stuff, no longer had time to straighten my hair so pulled it into a french plait and headed to the school.  It was tiny!  I knew in advance that for my lesson observation I would only be teaching five kids, and this actually ended up being four kids.  Two of the five were off sick and they pulled a third in from home purely for the lesson observations before he headed back home again.  They also scrounged a fourth non-computer option student from a different class to increase the numbers slightly!
It was such an odd experience teaching just four students!  My usual class size is 24 and I have 34 students in my form group.  I taught a 30 minute lesson on Input and Output Devices and gave an interview that I was really happy with.  The whole school feels like a small primary school although ranges from Reception – Year 11, with year groups of about 10 students.  It had a proper family and community feel to it and I felt that I would really be valued if I were to get this job.  I have never had any dealings with private education before or really known anybody that has been through the system.  I really enjoyed my time at a state school looking back on it but what preferences do you have?  It would be nice to have some outside opinions…