There seem to be a lot of education based posts in the blog world at the moment.  Here are three that I've spotted over the last few days…
These posts all really interested me, working as a teacher myself and teaching more than 300 students of all shapes and sizes, beliefs and values each year.
I qualified as a secondary school teacher in Summer 2010 and have been working at a state school in Cambridgeshire for the past three years.  Here is a picture of one of the unfinished boards in my classroom…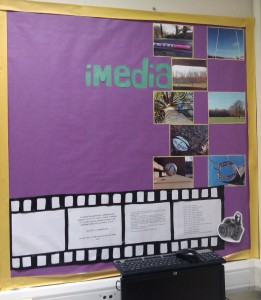 Here are a few thoughts regarding education which I had following reading the above posts…
1. I like my lessons to be creative and always visually stimulating.  I love helping others and seeing them achieve and I try to base myself on my form tutor from years 10 & 11 – Mr Jones, who always encouraged me to bring my hobbies into my school work.  He was also my graphic design teacher and I ended up getting an A* for my Graphic Design GCSE when I based the pop-up book I created for my coursework on learning to ride (horses).  He never spoke loudly or made us work hard.  We worked hard because we wanted to please him and I hope that students work harder for me for the same reason.  I have my fingers crossed for some good results this year for my first class of GCSE Computing students.  (Until this class all my GCSE classes took a 100% coursework class so I knew the grades they would be achieving before the year was up.)
2. I have always been amazed at the number of my form group that come into school eating bags of crisps for breakfast and are glugging bottles of sports drinks by breaktime for a day at a desk! I'm forever finding sweets wrappers underneath the desks and I think twice in my whole time at my current school have I seen a student eating a piece of fruit as part of their lunch.  A friend of mine has a four year old daughter who attends ballet lessons at the weekend. She was also amazed at how many of the four year olds were drinking large bottles of sports drinks during their class when she had packed a small box of raisins and a carton of orange juice for her daughter!  Why does a four year old require a sports drink?!  I am very interested in jobs involving work with families with small children to encourage them to move more and consider their eating habits as it really does shock me just how few students in high school are truely aware of what is required for a 'healthy lifestyle'.
3. One of my students was diagnosed with anorexia two years ago and I saw the strain this put on her whole family, friends and staff within the school.  She dropped a dramatic amount of weight in a very short while and ended up admitted to hospital.  I was involved with the readmittance process five months later once the hospital had declared her well enough to return and saw how hard it was for her to do this.  Comments like 'You're looking well' were incredibly hard for her to hear, as in her mind meant that she had put on weight and these comments then often resulted in her going backwards with her recovery for a short while again.
My brother lost four stone just after high school.  He had always been rather chubby, baby-faced and played on the computer a lot when he was a teenager.  My Dad would always comment on his weight or laziness, not thinking how much that could affect someone.  When Mark decided to lose weight it went within two months.  He restricted his calories vastly and worked out in his room for hours at a time eventually turning into a 'lollipop head' and really worrying my Mum.  There was a happy ending, as a year later he met a new girlfriend who he was with for a few years and who helped him to settle into a regular way of eating and exercising again.  What people say can affect somebody so much, even the smallest of passing comments.
I do also have some exciting news to share today.  I GOT THE JOB!!!
On Thursday I went for an interview for a computing teacher in an independent school and got the job!  I knew I had had a really good interview but daren't dream that I had gotten the job until I got the phonecall at 8:10pm last night!  This job is only three days a week but I will have the opportunity to teach students younger than high school age, I will be in sole charge of ICT for the school which will leave me in a strong position for higher positions in the future and I will have a lot of opportunities to work closely with SEN students which is an area that I am very interested in.  After the interview I babbled non-stop about the school to my Mum on the phone, and then when she had to go, I babbled away to Dan too!  I'm really looking forward to it!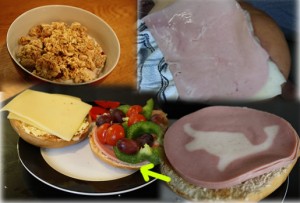 Here are my eats from yesterday…cereal for breakfast, a ham and cheese bagel for 'Treats' along with a milky way bar that went unpictured.  Then for tea I grabbed another bagel with some dino-turkey slices and added a slice of cheese, tomatoes, peppers and grapes.
We went to the cinema to see Star Trek Into Darkness last night.  It was a good film, but not as good as the first one.  Our trip included a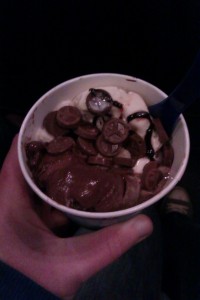 mini celebration as I had just heard the news about the job before entering the screen so we each picked up some Ben & Jerry's on the way in!  (Who am I kidding?  We would have it anyway!!!)  Mine was chocolate brownie fro yo with cookie dough icecream and a few milk chocolate peace signs on top!
A GOOD weekend so far and then tomorrow, I am off to Write This Run!  I cannot wait! 

  Who else will be there?…