I was itching to get out for my first post-marathon run yesterday.  How could I ever go four days without running before.  FOUR WHOLE DAYS?!  It felt like forever this week.  My legs did ache all day on Tuesday after MK Marathon on Monday.  They didn't ache at all last year.  Maybe I just swung my legs around like some crazy fool this time round in some effort to keep them cool and not rub?…  Who knows…I might check out that race vid again!
I agreed to meet up with my friend Jenny for an easy run at 5pm.  Time to get some shopping in first.  An Argos trip for my nephew's first birthday next week.  He's just started walking, so this was the perfect present!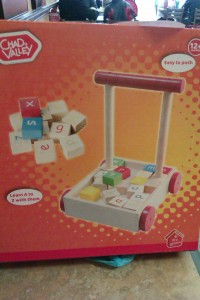 Then we nipped to Tescos for a quick shop where I spotted this truck.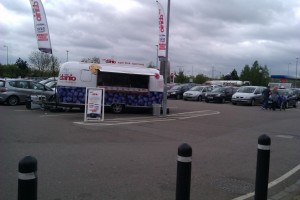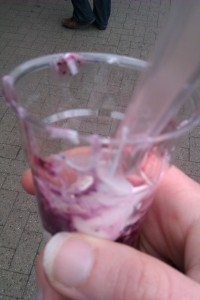 I didn't think it was a burger van and when I got closer I realised they were giving away free samples of danio yoghurt so I dragged Dan over for a test pot.  I chose a blueberry flavour and were surprised at how thick and tasty they were.  I chatted a little to the woman on the stall who said that they were both high in protein and low in fat.  Winning combo! 

  She added that they were 'Buy three for 90p instore'.
We headed instore and I added six to the basket!  Three blueberry and three strawberry (I have already gotten through two since yesterday afternoon…they might be a new addiction…whoops!)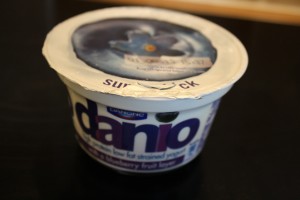 I got ready for my run when we got back.  Although realised too late that I had put both of my running bras in the wash this morning.  (I've had FOUR days without running, why would I put both in on the day I wanted to run?!)  I found an old sports bra in the cupboard (sometimes it pays to be a hoarder) but when I put it in I found the clips dug into my back.  Hello oversized plaster to protect my back for the run.  Problem solved.  There was no way I wasn't running!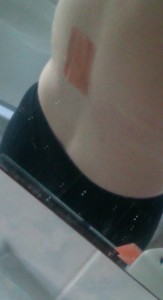 It started raining quite hard just before 5pm but I chose to ignore my phone beeping, knowing it was Jenny saying that she didn't fancy running in the rain.  Instead, I left my phone at home and ran to hers, knowing that I would be able to persuade her for a short run when I got there!  She lives about a mile away and I got soaked in that time, but it had cleared by the time I got to hers so with a little gentle persuasion I talked her out and then talked her into running 6.57 miles with me!  (I think she originally thought I meant a 5k run!)
It felt so GREAT to be out again!  Thanks Jen!  Much appreciated! 

  I felt like I was running at a tempo pace but my stats ended up being 10:52 (inc warmup and brief wait for Jenny), 10:34, 10:24, 10:01, 10:28, 9:44, 9:37.  Far from my normal running pace but I WILL get my speed back again over the Summer.  I want to start running with my heart monitor again now to try and track how my body is on a run.  I am still trying my best to not check my watch whilst running and I feel much happier running this way.  But not yet ready to run watchless.  I'm too much of a data geek to do that!
I've just gotten back from Write This Run which was FANTASTIC!  I promise a blog tomorrow about all of the amazing tips and inspiration I have gained from today as well as some reviews of sampling the goodies!  I have left feeling mega inspired and am about to email my coach for advice on a half marathon plan for the GNR in Sept.  I feel a Summer of running coming on!