This has taken longer than planned.  Originally I intended on getting a Write This Run post up on Monday after school but (TMI warning…) I have been lying in bed throwing my guts up since 6pm on Monday night and only now feel well enough to prop myself on my side and attempt a blog post to try and highlight just what a fantastic day Sunday was.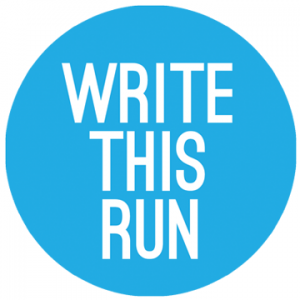 Being relatively new to the blogging world I have never attended any type of blogger meet-up before and being of rather a shy personality was not sure how I would find the day.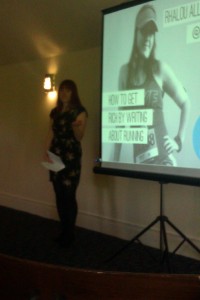 I felt rather awkward to begin with and nervously downed several glasses of water before IronMum took pity on me and came over for a chat.  Just before 10am we were ushered up to the conference room where our first panel of speakers were sat ready to talk to us.  Carys Matthews, Rhalou Allerhand and Fraser Sim spoke to us during the Social Media and PR section.
After a short loo break we returned to our seats to welcome the Inspiring Stories panel.  This was my favourite panel of the day and consisted of Kevin Betts, Donna DeWick and Mimi Anderson.
Mimi Anderson is my new hero and I cannot believe all of the crazy adventures she has had when she didn't even begin running until the age of 37!  I've got another 9 years yet to consider where I want to take my crazy running adventures!  The elegant, stylish and well-spoken 'Marvellous Mimi' that stood before us was not what we were expecting following tales of camper-van living and running across extreme parts of the world.  I only wish that I had been brave enough to quiz her on ultra running and her experience on the day.  [Damn being so shy!]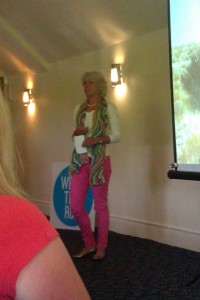 Jay asked the all-important question that we were all dying to know though…'with events like Mimi attends, what was the quality of the goodie bags?!'  (Pretty good apparently!)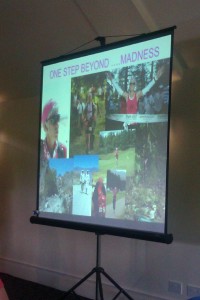 Kevin told us about the 52 [sub 4!] marathons he had run in 2011 in order to raise money and awareness for Mental Health after his Dad committed suicide whilst he was a teenager.  He read through a short letter that he had been given following a recent talk in a high school from a student that had been considering suicide.  The letter thanked him for his goal-setting talk and honesty and openness about the issue of suicide.  I think several people welled up during this point and had to turn away.  With two students at our school committing suicide within the space of a year I feel that a talk from somebody like Kevin would be very beneficial as part of the new PD scheme of work currently in the planning stages for next year and will be suggesting it over the next few weeks.
Lunch was a nice surprise when we headed outside to the smells of a BBQ cooking and I loaded up on a burger, roll and some salad.  The Chobani team came round afterwards with some yoghurts to try.  I am in love with the strawberry flavour!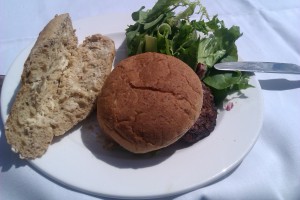 After lunch we headed back up for the 'Bloggers and Vloggers' panel – Philippa Moore, Stuart Amory and of course, Laura Fountain, one of the brains behind Write This Run!
The fourth and final panel was dubbed the 'Running Experts' and consisted of Rebecca Randell, Karen Weir and Scott Overall.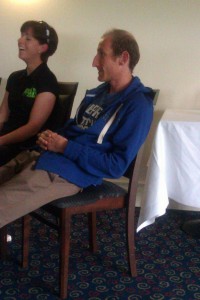 Karen got us all up and moving to demonstrate some good [and poor] running techniques and we all learnt where we should keep our credit cards (tucked in our bums to engage the glutes!)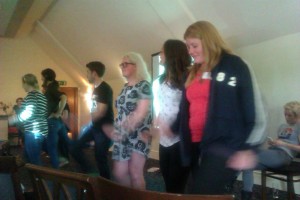 Most of us then headed out to run a 5k led by Scott Overall around Hampton Park to finish off the day where we ran alongside several hundred deer which was a new experience for me!  I'm used to riding through them on horseback, but letting you get this close in person was a completely new experience!  (Note: I didn't see Scott at all and was somewhere close to the back running at a 9:15-9:30 pace!  These running bloggers can really run!  It meant that I had the chance to chat to a few more bloggers though and spent some time chatting to Katie who I realised afterwards had supplied the yummy cake we had eaten in the afternoon break.)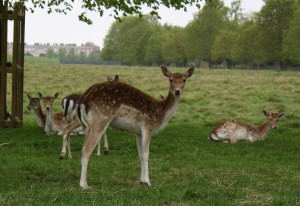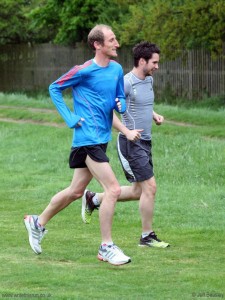 (Pic of Scott and Kevin taken from the Write This Run FB page)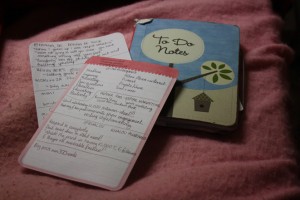 I took pages of notes throughout the day, and jotted down several quotes, my favourites being the following…
"What's the point in having 10,000 Twitter followers if they're all miserable fuckers?!"  – Rhalou, after giving some excellent advice about not tweeting when you're in a bad mood!
"We're not going to sell you shoes – you have something wrong with your feet!"
"Everybody has the ability to go out and challenge themselves" – Donna, proving that no matter who doesn't believe in you, believing in yourself matters more than anything else.
"Only ever stop if there's no other option." – Kevin, on how he made it through 52 marathons!
As runners we all love a good goodie bag, and we were not disappointed at what we received at the end of our blogging-marathon day…
This beautiful bag…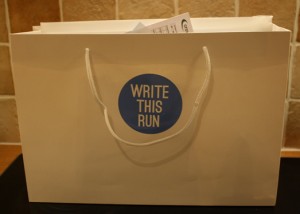 …contained these fantastic goodies…!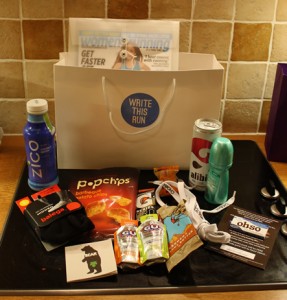 (Everything gets photographed on the hob in my house!)
Some of which I shall be writing about over the next few days as my obsession list continues.  I have lots of blog post ideas in the pipeline following Sunday so once I'm feeling better expect to be bombarded with new posts! 

Would I recommend Write This Run?  Definitely!  It was a great day filled with some fantastic inspirational and hillarious speakers.  Check out the Write This Run website for details on their other events.
P.S. I shall pretend that the suggested guideline for blogpost wordcounts was actually 1000 and not 300 words.