Warning: Do not read over dinner…or if talking about vomit makes you queasy(!)
I had an amazing weekend.  Then headed back to work on Monday.  Standard day.  Returned home from work and whilst I was making a lovely batch of enchiladas my tummy started to ache.  I didn't think a huge amount of it to begin with but did tell Dan that my tummy was feeling quite tender.  By the time the enchiladas had cooked and were ready to eat I really struggled to get any food inside me and almost gave up entirely.  I just didn't fancy the food.
I was struggling to concentrate, so agreed to take a couple of hours off from working to put on a film but halfway through Johnny English: Reborn I ended up rushing upstairs to hug the toilet from a position on the floor.  I wasn't sick (that time) but after a couple of hours napping I was feeling really rubbish and woke to be sick.  Then I woke at 3am to be repeatedly sick for about 10 minutes non-stop!  I have never been so sick in my life!  Not even when I was at primary school and projectile vomited from the bathroom door through the open toilet cubical door!  (Sorry, probably a little TMI!)
Until that point I think I still had in my head that I would be going into work on Tuesday morning but when the clock got to 4am and I was only then managing to scrape myself off of the floor and pile back into bed I realised this probably wouldn't be the case!
All day Tuesday the top of my stomach (just below my ribcage) kept cramping up.  Probably every waking minute or so.  In the same location as it had felt restricted during MK marathon at the start of last week.  It kept kind of spasming for a few seconds at a time and then the pain would subside and I would be OK again.
The total of my food intake on Tuesday was the chocolate from the outside of a Kinder Egg which Dan brought home to try and cheer me up.  Pretty much the whole day was spent in bed trying to either sleep off the pain/urge to throw up, write to do lists that I would not be able to complete until better, or reassure this beautiful creature that I was actually OK and that she had no need to worry!  (Bella kept standing over me all concerned and using her paws to paw at my face?!…Is it just my cat that does this?!)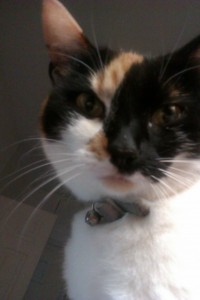 Wednesday morning and I hadn't been sick overnight but felt very weak and dizzy and wobbily.  I wanted to be better and back in school by Thursday, knowing that I had three hours of parents evening appointments so made a real effort to get out of bed and move around as much as possible on Wednesday, trying to eat little amounts throughout the day.  The snacks I picked up over the weekend were perfect to keep me going!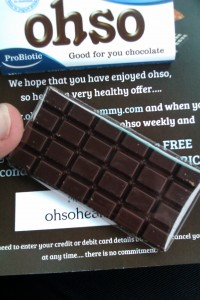 This little ohso mini tiny chocolate bar I received in my goodie bag from Write This Run at the weekend.  I loved how teeny tiny it was (my thumb nail was about 1/6 of the size) and that it was split up into 24 teeny tiny chocolate squares.  (I did try my best to eat each one individually!)  It lasted longer than I thought it would but I'm not a very big fan of dark chocolate…I know, I know, it's supposed to be the best sort for you but I much prefer milk or white!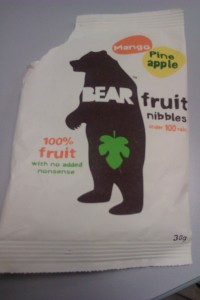 Throughout the day I also picked my way slowly through the Bear fruit nibbles that came as part of my goodie bag.  I had the mango and pineapple flavour nibbles and loved the packaging it came in.  The fruit itself was very similar in amount and flavour to the Graze boxes I receive through the post each week.  When I went on the product website I was pleased to see that it stuck to the fun design of the packaging and I discovered that not only was there another flavour available (Cherry Berry) but that they also produce Bear yo-yos and I would quite like to try the Apple flavour! (Apples, pears and absolutely nothing else!)  I haven't seen these products in the shops but on the Sale page a pack of 18 yo-yos works out at just under 50p per packet which I think is quite good!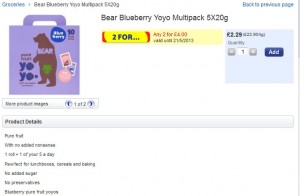 I just checked (whilst writing this review) and the yoyos are currently on offer in Tescos.  I clearly need to rummage through the aisles at Tesco a little better during my weekly shop as I've never spotted these before.  They're currently buy two packs of 5 for £4 until 21st May.
Luckily my plan of eating little and often and moving little bits throughout the day on Wednesday worked, and although I don't feel 100% yet I made it through a day at school and parents evening tonight without so much as a single vomit. (Although I made sure there was nothing inside of me beforehand to vomit with!)
When I first trained to become a teacher I was told I would get through a lot of cups of tea.  When I told my first mentor I had never liked tea they laughed.  I laughed.  It was awkward…I wasn't sure what they were laughing at.  During parents evening tonight I drank three cups.  Tur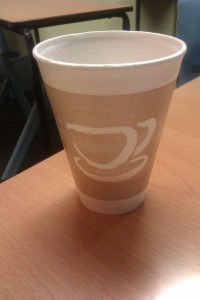 ns out, when you have four classes of year 7s, resulting in a fully booked year 7 parents evening, with other parents frequently passing you in the hope you can fit in their child between pre-booked in students you end up talking non-stop for three hours and you have to drink tea otherwise the ability to open your mouth and make sense without gasping sounds is no longer yours.  I am now a tea drinker.
Oh, and towards the end of the night I also felt that I needed to slowly take a few mouthfuls of this cheese and ham baguette that we were given.  The urge to vomit had passed by then and I only had students I disliked towards the end of the night anyway. (joking!)