I feel like I no longer know how to run! 

  Seriously, I took four days off last week after the marathon, and I've ended up with another five non-running days this week after picking up whatever horrible-crazy-puking virus I got this week!  I aim to run four-five days per week, not take that many days off!!!
Luckily(!), tomorrow Kev has agreed to run me across 20 miles of trail after he made me promise I would be at his no later than 6:50am in my running clothes and ready to go!  And if I survive the 20 miles on two weeks of limited training tomorrow I can run a further 15 on Sunday morning bright and early!
Nope, I'm not trying to kill myself, but just getting ready for the 35 mile ultra I've booked myself in for in a fortnight's time.  This weekend won't be at a very high speed, – more of a laugh with a bunch of guys from my running club checking out the course over two sessions.  Or at least, that's what I'm hoping for!
My stomach still isn't back to 100% and when it was churning this morning at 5am loud enough and uncomfortable enough to wake me I did have a little panic about whether or not I could run tomorrow but I figure, it's supposed to be for fun.  Tomorrow's not race day, I know everybody I'm running with (all guys, all much faster than me) and if it is too much I'll just head home again.  (Or sit on the floor in a sulk refusing to move until they pick me up and carry me the rest of the way)(<<That's never going to happen!)
Tomorrow is going to be a rather busy day.  6:50am to Kev's with the aim of dropping a car off at the far end of the route beforehand and actually heading back to start the run for 8am.  20 mile run, pick cars up and head home.  Shower, change, head to Dan's sister's house for Dan's nephew's first birthday.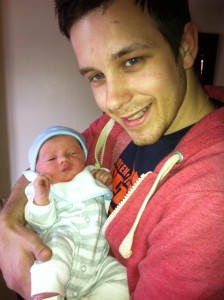 …Obviously he no longer looks like this!  This was the day he was born.
Then we are off to our friends Vick and Alex's for a Eurovision Party.  I've got Ireland.  Dan drew Russia.  Any ideas on an Irish and Russian dish we could take?… Help!