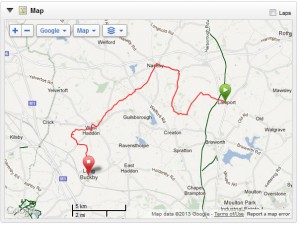 The plan for this weekend was to cover the first 20 miles of the Shires & Spires Ultra route yesterday and the final 15 miles today.  Unfortunately, my body has had other plans for me this past week so things didn't go quite to plan…!
Yesterday I got up at 5:45, terrified of either a) throwing up on route or b) cramping up and needing the toilet really badly.  On Friday I had made some noodles and tried to get them down me, but only managed three forkfuls before Dan had taken over and finished the rest of the dish.  Yesterday morning, I couldn't eat anything at all.  My stomach felt so full (bloated?) and I could barely drink a glass of water before leaving the house.  Despite having nothing in me I could feel my tummy start to churn so I made a pit stop at Tescos for some Imodium instants on the way to Kev's and popped one for the first time ever, just to be on the safe side.
Kev drove us to our finish point for the day in Long Buckby, picking up another club runner, Stuart, along the way.  When we arrived, Guy, another club runner and one of the race organisers bundled us into his van and drove us to the start of the course at Lamport Hall and we parked in the pub car park opposite before jumping out to meet two other runners that had found out about the practice run on the Go Beyond Facebook page.  There was a lady from Northampton Road Runners and a guy from a club in Milton Keynes.
We set off quite slowly down the road and almost immediately turned into a field and jumped a gate to be able to continue.  The first four or five miles were lovely – all off-road and on wide farm tracks alongside the edge of fields.  Guy and Kev repeatedly stopped and pointed out to us bits of the trail – the part where we would join it coming back again, a turning we might miss, etc.  I was really enjoying it, I didn't feel sick and knew in my head I could get round a course like this and really enjoy it.  The weather yesterday was perfect.  Slightly overcast, warm and not wet or windy at all.
Where the first checkpoint would be (just before five miles) Guy left us to head back to his van as he'd just planned to run 10 miles today.  The five of us continued and the next section until Checkpoint 2 (at about 8.5 miles) was entirely road, although small back roads where we could still run alongside each other.  Earlier that morning, when we had driven to the start I had commented on how big the hills were that we were driving up and almost straight back down again.  These popped up several times during the road section of the course, but, being an ultra marathon event, we felt as though we were 'allowed' to walk them, – the pressure was off!
Not long after Checkpoint 2 we headed over a cattle grid (I hate these things!) and through a large field of sheep towards a stately home looking place.  At one point, there were two large sheep stood facing us on the track that didn't look as though they were going to give up their ground.  I did wonder briefly if the sheep would be in the field on the day and if anyone had ever been rammed by a sheep on course before…but luckily, no-one was today.
I had really slowed by this point.  Being ill and barely eating all week as well as having not been able to eat anything that morning before setting off were all taking their toll on me and I adopted a run-walk strategy, always pointing out to Kev – who stayed with me throughout, a tree that I would begin my run at again.  The bottom of my stomach began to feel sick and several times I actually thought I was going to be, despite having nothing inside of me to be sick with.  I thought it was probably due to hunger more than anything else, but knew that if I had a sandwich presented to me at that very moment that I wouldn't be able to eat it – my stomach still felt strangely full.  The other three ran on ahead and every so often would pop back to check on us, which I was very appreciative of.  I was so grateful of Kev though, who was the perfect running buddy.  I told him of my fears of losing fitness after my marathon like last year, and how frustrating it had been barely being able to run the past two weeks.  I told him how frustrating it was that we had been out for two hours and not even reached ten miles yet, when my PB for ten miles is 1h 34m.  But none of it mattered.  He made it very clear that this was a trail run, a practice run and we were running as a group.  Speed didn't matter, it was all about time on feet and getting myself round.  When I pointed out that I had lost three quarters of a stone since the marathon 12 days earlier (partly from heat exhaustion on the day and partly from this week's illness) Kev made the decision for me that I should not attend this morning's practice run of the final 15 miles of the route.  I was grateful that he had because otherwise I would most likely have been out there this morning giving myself less time to fully recover before the big day itself.
I was oddly feeling happier during the second half of the run.  Perhaps, having told Kev my fears and letting the others know that I wasn't feeling 100% helped.  I still ran/walked it but was much more comfortable and chatty whilst doing so.  We passed through a miniature horse field before heading up a large hill and through several more fields where we had to climb up and over fences or stiles.  At about mile 15/16 we reached what I'm guessing was the riding school marked down as Checkpoint 3.  There were several thoroughbred-y type horses all penned into different small fields that were winding each other up.  The footpath indicated that we had to cross through one of the small pens past a great big horse throwing himself around and kicking his back legs up in the air.  Kev's reaction was "I'm not getting in the field with that bloody thing!" The five of us ran parallel to the fence to try and find a way around.  Kev thought he had found a way through at the very bottom of the field.  It was covered in nettles though and really overgrown.  As the only one not dressed in shorts, but instead wearing full length tights, I offered to stomp down the nettles.  This was until I got so far as to discover the four foot ditch underneath the nettles and barbed wire fencing the other side of the ditch.  Kev was determined to get through and whilst he attempted to tackle the ditch with Stu, the other three of us returned to the main footpath and shouted and waved until we got the attention of somebody riding in the riding school.  A woman then came and held the horse still so that we could get through the field past him without any stray feet flying our way.  Fingers crossed on the day this horse is kept inside!  Once through to the other side we looked round for Stu and Kev.  Turned out the fear of passing through the horse field had gotten them to scramble through the nettle-filled ditch, clamber up the other side and leap across the barbed wire!
We passed through a couple of rape fields.  I did wonder if these were going to be a problem for asthma sufferers on the day, but having never had asthma myself don't know how much it would affect somebody.  I enjoyed running through the middle of the fields, although really concentrated on my footing.  Eventually we came to a steep hill through one final green field and out by a church, crossed the road and saw Kev's beautiful van!  The three that had run on ahead were already sat infront of a cafe with bacon butties and bottles of coke.  I quickly stretched whilst leaning on the van as I could already feel the bottoms of my legs tightening and then pulled up a chair to join them.  Kev bought me a bottle of coke as an attempt to settle my stomach and Kevin, one of the non-club runners that had been with us dropped an electrolyte tablet into my water bottle.  I don't actually like fizzy drinks and the electrolyte tablet made my water taste funky.  All I really wanted was a nice cool bottle of normal water!  But I did sip a little of both drinks I had been given.  I could think of nothing worse than food right then either.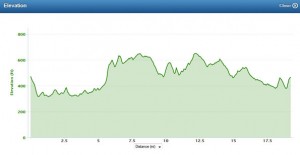 I loved the course today and all I could think of was how much more I would have enjoyed it had I been feeling 100%.  I wish that I had not been ill this week and that I had been able to complete the remaining 15 miles of the course today.
We bundled into Kev's van to head back to the start line and drop off the two non-members before heading home.  I felt pretty sick so wasn't very chatty on the way back.  For some reason I really craved a chocolate milkshake.  I knew if I stopped in Tesco I would get frustrated with the Saturday morning parking and till queues before I even found the chocolate milkshakes, so did something I don't think I have ever done in my life before and went through a KFC drive-through and ordered a Malteaser Krush-em.  I finished this in minutes!  For somebody that hadn't had a proper meal in days this disappeared extremely quickly!  In a spur of the moment decision I also ordered a chicken sandwich, thinking about getting protein and carbs into me but I only managed about two bites before I couldn't handle anymore and wrapped the rest up to present to Dan when I arrived home before promptly falling asleep next to him in bed whilst he finished watching the football!