A busy weekend was had after waking up after my post 20 mile trail run nap on Saturday afternoon.

As soon as I woke I had to get myself together enough to cook up an Irish Stew as my dish for Eurovision and Dan popped some Russian kebabs in the oven for a quick cook.
Every year in the week before Eurovision, when the finalists are announced we draw countries and then head to our friend Kate's house in dress representing that country and presenting a dish from that country also.  This year, I was Ireland, Dan was Russia.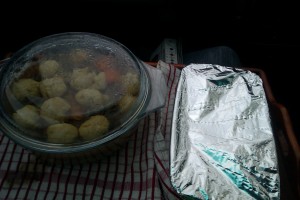 Irish stew seemed like a great idea at the time, and after barely eating at all for the past few days I really fancied some of this dish whilst it was cooking in the oven.  Unfortunately I didn't really think about transportation issues and ended up balancing a rather full casserole dish on a teatowel, on a tray on my lap for 20 miles to get to Peterborough!  I felt a little like I should have been on the Crystal Maze and should have been rewarded with a crystal upon arrival with just one spillage!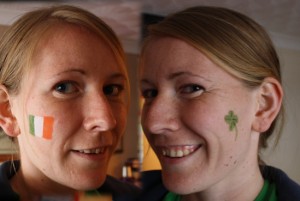 Dan was dubbed face-artist for the night when he produced doodles as good as my clover and flag, and was then roped in to ceate several people's face images including a really good rose on the UK person's face!
The costumes weren't quite as good this year as some.  (Dan and I were rather lazy…Dan's facepaint was actually the extent of his costume, and I ended up just wearing something green for the night.  Lazy as.)  I love dressing up but having had such a rubbish week I didn't have the energy to get together something this year.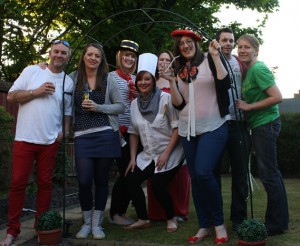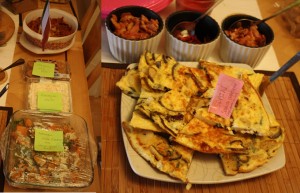 The food was not a let down though and we had a massive assortment of dishes from all across Europe.  I managed to eat a piece of the Spanish omlette, some of my Irish Stew, two pieces of french stick some of the sweet potato with lemongrass dressing and some white fudge for dessert.  It took me a long while to get the food down.  Everybody else had had seconds or even thirds by the time I put my plate down but I got through it!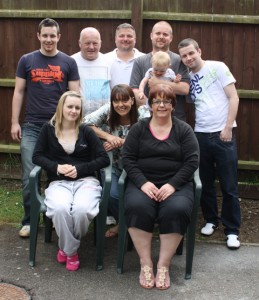 On Sunday Dan and I headed to his nephew's first birthday party.  We met his parents and brother there, as well as obviously his sister (Sarah) and boyfriend (also called Dan) with their child (my Dan's nephew), Jenson.  Brother-in-law(ish) Dan already has a five year old, Evie, and Dan's friend Phil brought her over to visit, along with Dan's Mum.  I was photographer for the day so there are no photos of me!
Jenson had a Thomas the Tank cake and Evie was desperate to help him blow out the candle on the cake when the time came!  The only photos she would let us take of her were the ones she didn't know we were taking, so I snapped several of the cake presenting/blowing!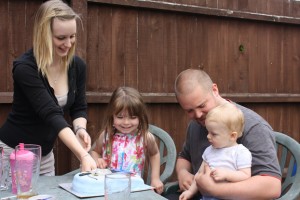 I had a piece of cake, but it wasn't homemade and was pretty standard.  I didn't take any of the other party food on offer as I still wasn't really feeling like eating.  I had at least managed a small bowl of stew before heading out to the party that morning.  Not exactly breakfast food, but I was just happy to feel like eating something again!
When we arrived back at ours we sorted our lawn out.  It had been almost a month since it was last mown and it always takes forever to do the lawn as we have a section infront of the house, a long strip at the side of the house and then a large area out the back.  We decided to work on it together and spent the best part of two hours mowing, strimming and pulling MASSIVE thistles up from the garden.  How do they get so big after less than a month?!?!