Perfect trail weather tonight and pretty much back to full fitness finally!
I haven't been packing lunch since I went back to school last Thursday after having a couple of days off ill.  I have barely been able to eat quarter of a bowl of cereal in the mornings and that was forced down each day.  Yesterday though I managed a full bowl, and today another one and was starving by lunchtime!  So much so, that when one of my year 7s pulled out some chocolate chunk cookies to offer me one, I couldn't resist!  A true sign that I have my apetite back again!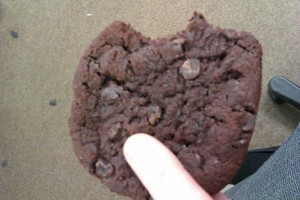 I definitely need to pack up a lunch tomorrow though to make sure I don't end up snacking on rubbish throughout the day now my appetite has returned.
Tonight I had organised myself to go on one of Kev's Wednesday night trail runs.  He is planning on running these each week all through until the winter.  The weather was perfect.  Still warm and sunny enough that we could run in short-sleeves and shorts, but cool enough that we weren't gasping for a drink from the heat.  He had planned a lovely route from town through fields along the river to a local nature reserve and back through a slightly different field route.  along There ended up being five of us that went out – Me, Kev, another Kev that came on the last Wed night trail run, Colin and Tim who are both much, much faster runners than me!  I think they're both in the top group.
It didn't matter today though and I did not feel as though I had to keep up with them.  They kept at a fairly steady pace and there were lots of gates and stiles on route which ensured we kept regrouping at regular intervals.  Kev ran with me the whole way and both Colin and Tim dropped back at separate times to have a chat with us.  I didn't feel pressured to keep up and I felt like I was running well again.  Some of the confidence I have lost just lately began to return.  My average running pace was between 9-9:30mm and then with all of the stiles/gates this took my Garmin 'AvePace' down to 11mm over the 6.22mile distance.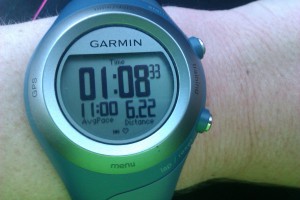 We passed through two fields of sheep, a field with two ponies in and a field of cattle.  I've never seen Kev move so fast before!  He has some deep fear of cattle in a field!  One of our club runners was tossed up in the air by a cow a few years back and had to have several operations on his arm to repair the damage that was caused.  I think several of our runners now enter fields ready to put a quick spurt on when necessary!  Is there anybody else out there with bad cattle/sheep/horse experiences?!
After the run we all stopped and chatted marathon experiences together for 10-15mins before heading our separate ways home.  It was nice to 'meet' others from my club who are much faster runners than me and have been running for a lot longer.  Our paths would probably otherwise never cross if we were to rely purely from meeting on running nights.  I fully intend on continuing to run on Wednesday evenings after my Ultra.
For anybody that's interested in running an Ultra and wants bucket loads of help and advice, I notice that Women's Running mag have started advertising their Operation Ultra again.  I entered the comp last year, and both years of Project 26.2 but no luck yet.  I shall be entering Operation Ultra again this year and suggest anyone even remotely tempted by an ultra does the same!  I would love to receive all of what's on offer for the winner…
* Free entry into the ultra of your choice (from the list below)
* Step-by-step training plans from coaching expert Phoebe Thomas
* Ongoing training support to get you race-fit
* Essential advice on injury prevention
* Nutritional advice and support
* Apparel and footwear to keep you comfortable during your ultra
Imagine where my running could go with that little lot!…