So yesterday I finished with this picture…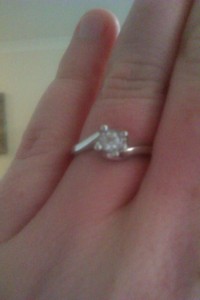 …and no details!  Here we go as I attempt to recall every bit of Sunday afternoon…!
On Sunday morning we woke up bright and early (although not as early as planned!)  We are Tesco points crazy and each year we try to go away for free by using our Tesco points to exchange them for hotel vouchers.  This year Dan had suggested Lake Windermere, although we were desperate to go back to Rutland Water, where we went last year but they didn't have any availability.
Dan had agreed to drive us, as it was about a four hour drive and I'm not a massive fan of long drives.  We stopped off at services along the way to grab some drinks.  I grabbed a 'Blue Machine' Naked smoothie which was really nice and fruity and Dan finally found a bottle of Diet Coke with his name on!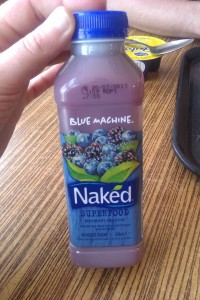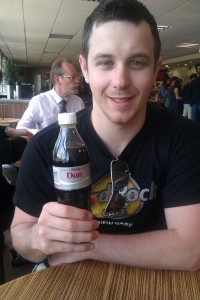 When we arrived, the weather was beautiful.  We had been expecting drizzly weather over most of the weekend but the forecast changed at the last minute.  Our hotel was picturesque and sat on the top of a hill which gave us a good workout each morning.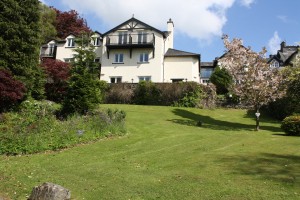 The second we arrived we wanted to head straight out and make the most of the nice weather as it was already 3pm and when we checked the forecast on arrival it looked like each day was going to get progressively worse weather-wise ending in Tuesday tipping it down!
Dan suggested we check out the boat hire as it was something we both said we had wanted to do and it was something we should probably do in nice weather.  I didn't expect to get a boat with that little notice as the whole town looked so busy with it being a bank holiday weekend, but we were told that 'Kate' the boat would be available in an hour and a half's time.  We nipped back to the hotel so that I could change, as I was wearing a maxi dress and didn't know how easy it would be for me to get in and out of the boat.
Whilst I was changing Dan headed into the bathroom to find water spilling all over the floor from the bottom of the sink.  Freakily, at the exact same moment, reception rang to find out how our room was so I mentioned the water and they sent a handyman up to take a look.  We were desperate to get back out in the nice weather so gave him permission to go into the room to fix the problem whilst we were out.
Whilst we were waiting for our boat rental time of 5pm to roll round we mooched around some of the touristy shops in town and checked out the 36 flavours of ice-cream the town boasted to try and decide which we would like the following day.
I had thrown on three layers – a strappy top, thin tee and a jumper but still ended up wearing Dan's hoodie when we went out on the lake as I get cold quite easily and the breeze was just enough to need a hoodie despite the strong sun.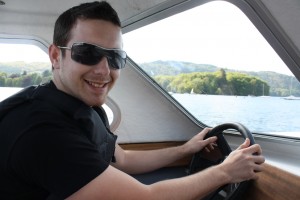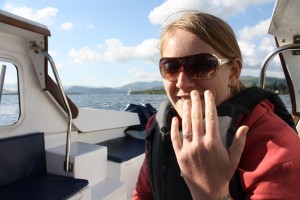 Dan started out in charge of the boat and I was happy taking pictures as passenger.  We got right out into the middle of the lake and Dan put the boat into neutral and suggested we go and take some pictures out of the back of the boat.  Me being the gullible person that I am agreed and clambered through to take pictures.  When I turned back around to see where he had gotten to he was down on one knee and asking me to marry him!  My initial response was "Are you serious?!"  Before obviously saying "YES!"  We have been together more than
six years
and I actually didn't think it would end up happening for several more years yet!
On the way back we took it in turns to drive the boat and I couldn't stop smiling!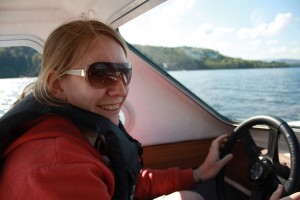 We nipped into a pub with a beer garden afterwards so I could ask Dan questions like "How long ago did you start looking for a ring?" (since before Christmas)  "When did you pick up the ring?" (The day before)  "When did you buy the ring?" (Several weeks earlier)  "Who had you told?"  (Nobody!)
We agreed to drop by his parents on the way back on Tuesday afternoon and tell them, and we had planned to see my parents on Wednesday/Thursday anyway so we could let them know then.  Until both sets of parents were told we agreed to tell nobody else.
When we returned to our hotel the water was spilling out of the bathroom into the bedroom area so we were moved to a different room.  This one had a terrace which overlooked the gardens and was even nicer!  We took the opportunity to take a few pictures as a newly-engaged couple!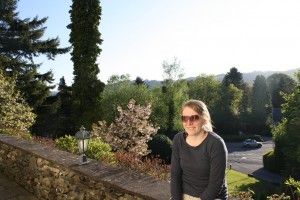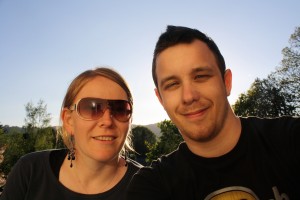 Fiancee is still a very strange word to use!