My goal for this Spring was to get a Sub 5hr marathon at the MK marathon at the start of May.  This didn't happen despite lots of training and being on target just a few weeks before marathon day.
After the marathon I had intended on entering most of the races in the EMGP series with my main goal of course being the Ultra at the start of June.
Taking five days off training when I was ill pushed my training back and I realised that my speed had decreased dramatically from what I know I had been capable of.  I know that if I had chosen to run in the EMGP races over the past two/three weeks I would damage my 35 mile Shires and Spires race in just one week's time.  I would push myself too hard at the smaller distances, knowing that I was capable of better times, feel frustrated with my results anyway and then end up losing my confidence going into my target race – the Ultra.  Therefore I have chosen not to enter any more races until the Ultra is over and I can really evaluate how my running is going and how I feel about it.
Meghann has posted today about not being able to do it all and I think it is important to be able to prioritise just what you do do in life. I am very guilty for trying too hard to 'do it all' and at the moment I'm often finding myself struggling to work a full time job, fit in a part time job, train for an ultra, maintain several websites – including the running club one, blog, keep the house tidy, cook healthy meals, be a good friend and daughter.  How does anyone fit it all in?!
Tonight I headed out for a run after work with my headphones and Episode #3 of Marathon Talk on my iPod.  It had rained on and off all day and when I saw this massive puddle by my car after work I ummmed and ahhhed about getting out for a run tonight…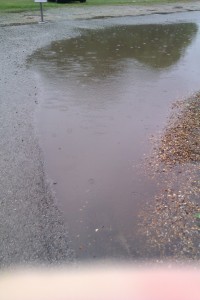 …and then I told myself to MAN UP! and get out there.  I would have loved for it to have been raining like this on marathon day and I knew I wouldn't regret heading out for a run once I was out there.
I had initially planned a 5mile run around my normal after-work route but instead headed out across quite a hilly 8.1 mile route that went through several nearby villages but had little traffic.  I lost myself in the podcast and intended on going pretty slowly – 11mm ish (after factoring in road crossings, removing my jacket, warmup and the like.)  I was still going strong at mile 7 so decided to try a trick my coach Heather mentioned a while ago and instead of trying to run faster for the remaining mile and a half, I tried to increase the number of steps I took per second.  I still had a lot of energy left in me and my splits ended up as 11:20, 10:37, 11:12, 10:48, 10:50, 10:19, 10:36, 9:30, 8:32.  Maybe I do have a bit of speed left in my legs after all that marathon training after all!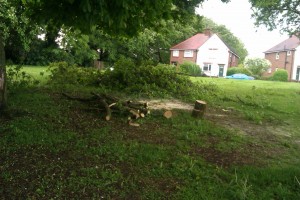 We've had a lot of rain and wind today and when I got home from work it turned out part of a tree and come down on the green opposite our house.  Somebody had chainsawed it up and was already carting it off by the time I returned from my run!
This is the third tree on the green to go over since we moved in nearly three years ago.  One day I'll be first on the scene to collect the extra firewood!