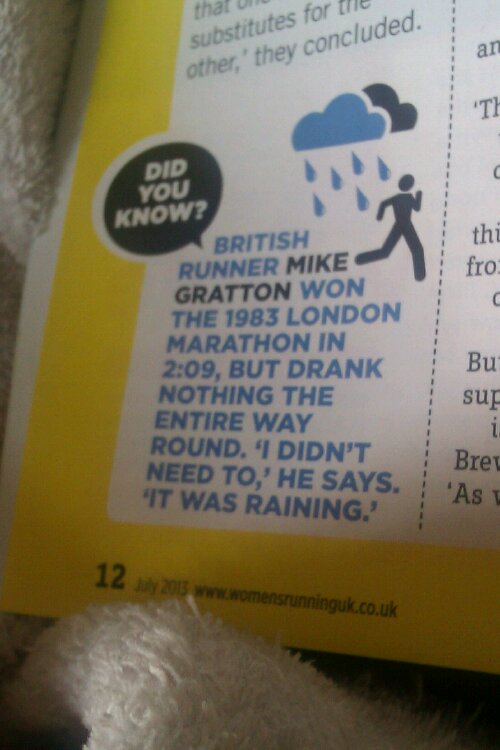 This article in Women's Running mag caught my eye. One of Dan's best friends John, ran Edinburgh marathon last weekend with the aim of completing his first marathon in 3h 30m. I checked his splits online while we were away last weekend to discover his half marathon split came in at 1h 47m 47s. Just about on target for a 3h 30m finish…so imagine my surprise when his finishing time was 4h 54m 12s! What had gone wrong?…
…He had missed a water station and ended up collapsed on the side of the road, waking up in the recovery position with some paramedics by his side.  After an hour on the floor and being told he wasn't to finish the final three miles he finally convinced the paramedics that he had now taken on board enough fluids to complete the race and came in within the five hour mark.  I imagine this would be a terrifying experience.  At Milton Keynes marathon at the start of the month I passed several of the more 'elite' runners on the side of the road sporting oxygen masks and looking deathly pale.  Just when do you stop pushing?  Most of the people I passed on the side of the road were men.  Are women better at judging when to back off a bit?  Do men just tend to be too stubborn?
Today I will be mostly…watching the weather forecast for tomorrow.  It is currently not looking good, despite it currently being overcast with a breeze, this is what it predicts tomorrow will be like…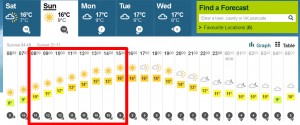 Hot, sunny and gradually increasing in temperature throughout the day.  Not my favourite running weather, especially not to tackle 35 miles in!  Fingers crossed for a freak cold patch tomorrow!