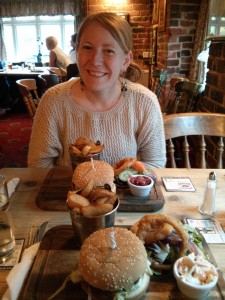 On the way home we stopped in at The Hollybush just outside Stafford which is where we celebrated our first six months together when Dan took me out.  We've tried to head back for as many .5 anniversaries as possible since.  It had been eight hours since breakfast and we'd been on a two hour trek in that time so I wolfed down a black and blue cajun burger with onion rings, salad and chunky chips.  The food here is lovely.
We killed some time in town, which is where we met at uni more than six years ago now, whilst we waited for Dan's Dad to get home from work.  When we knew he would be back we set off to go and tell Dan's parents the news.
His Mum screamed.  We both knew she would and Dan instantly mentioned that we hadn't told anybody else yet so not to tell the world on Facebook (she has rung/texted several times since to see if she can put it on Facebook and we've quickly told her NO!)
When we left Dan's parents we decided to ring his brother and sister straight away before his Mum called to say that Dan had some news to tell them and gave the game away.  Sarah congratulated us and wanted to see a picture of the ring.  Jaye's phone went through to voicemail and we thought Ann had already beaten us to it but the signal where he was was rubbish.  We ended up ringing him about 5 times in total because we kept getting cut off mid-story.  Very frustrating!  He has said that he will pop down to see us with his new girlfriend over the next couple of weeks and congratulate us properly.
When we arrived home we also told Bella, but she was much more excited about the paper bag we had brought home for her from Windermere.  It is now her favourite thing!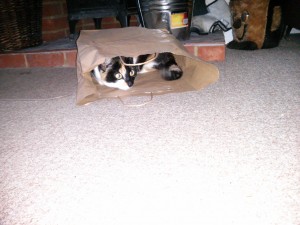 We are both eager to have an engagement party, but with most of our friends/family a 2 hour drive away and with my Mum needing it to be outside/not in close quarters as she will be in the middle of chemo it's proving rather difficult to plan.  We would both like both sets of parents to come, as well as the four groomsmen and partners, four bridesmaids and partners, both brothers and partners and sister, partner and child.  Any ideas for a 'large' engagement party that won't cost us too much money and will ensure that Mum can come too?  I suggested a BBQ or picnic where we ask people to bring a dish, but the weather is really unreliable at the moment, and we couldn't hold that many people in our house!