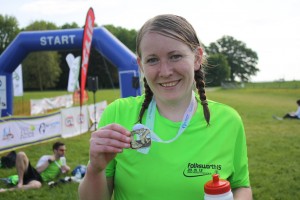 That's what my very first coach Howard said to me when I saw him marshalling at Checkpoint #4 today at the Shires & Spires Ultra!
This is going to be a very quick post, to let everyone know that I am still alive after becoming an ultramarathoner!  I LOVED the race, the day, being out in the sunshine, running with friends and everything about it!
Here are a couple of pics…full recap to follow soon hopefully, but bed is calling now, with a 5:45am wakeup call in the morning…just 7 weeks left until the Summer now…just think how many more trail runs I can fit in then?!!!