"Miss, I like your tan!" – Guess how many kids at school used that ingenious line today, referring to my burnt arms from the ultra at the weekend?…SIX!  Kids of Cambridgeshire think they are hilarious.  To each one, I answered that I ran a sub-8hr race at the weekend and couldn't reapply suncream on route and then they didn't know what to say after that!
Here's my recap of my biggest achievement yet…
Tea the night before on Saturday was a pre-planned veggie pizza…all to myself!  I reserve pizzas like this for pre-race nights like this!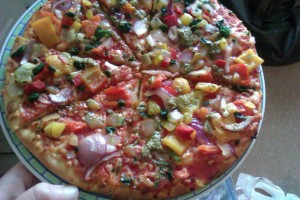 I woke up ridiculously early, but settled down with a blueberry bagel with peanut butter and my copy of Women's Running at 5:50am.  Dan had planned to take me to the start point at Lamport Hall, leaving ours just before 7am.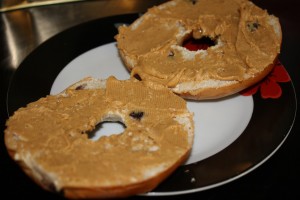 6:05am and Kev rang to say if I was at Stu's by 6:45am he would give me a lift.  I flew round the house, in and out of the shower, no time to dry my hair – straight into plaits (I would regret this later, when I got a nice big line of sunburn down my parting!), threw everything into a bag and shouted to Dan until he came downstairs!
There was no time to get nervous beforehand.  We arrived not long after 7 and the three of us headed to register as soon as we got there.  Then we returned to the car, where we met up with Stephen and Kev attempted to talk both him and Stu through the map…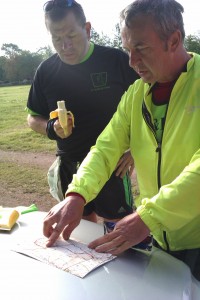 I'm not sure that Stu understood any of Kev's long instructions, but he made it round to the finish in one piece at least!
Steve, the organiser came to find Kev and mentioned that there was somebody who had gotten in touch with him and mentioned they weren't really sure about it being a navigate-yourself route and would Kev see them round.  It ended up being Jess and when she told Kev her marathon times, he passed her over to Colin from our club as he was much closer to her pace than we were!  Jess, that pace would have killed me!  (She went on to become second lady home!)  Unfortunately I never got to speak to her on the day, but from chatting on Twitter afterwards, she loved the race as much as I did!
Just enough time for a quick group photo…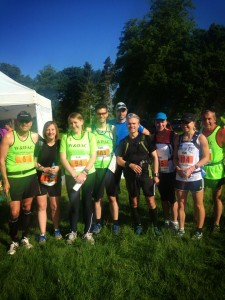 …and then we set off.
It was pretty hot from the beginning of the race and never really let up, despite me pouring bottlefuls of water over my head throughout the race and running in the shade whenever possible.
It was fantastic to see so many friendly W&DAC faces at each checkpoint – so many club members had turned up to marshall.  Howard, my first coach and his partner Sue, who ran her first marathon at MK when I did were both at Checkpoint #1 along with some GU energy drink, gels, fruit cake and jelly babies.  I grabbed a cup of GU, topped up my water bottle and two jelly babies, and repeated this at each of the other checkpoints on route.  There were five checkpoints in total.  I had estimated times for Dan to see me at checkpoints #4 and #5 later on in the race and was looking forward to seeing him when things started to get tough.
Another club runner, Karen decided on the day that she was going to come along and run with us.  (I'm not sure that I could ever just decide on the day 'Oh yeah, I'll give that 35 mile ultra I've done no training for a go!')  Until the first checkpoint she ran slightly ahead of us, but still in sight.  She's a much faster runner than me, having run for several more years and having a marathon PB of 4h 08m.  We quickly realised that between the three of us, we had not brought along a map of the course!  Ending up relying entirely on Kev's memory of the course from the previous year!  (And the reccy run we completed a fortnight ago.)
At the second checkpoint I bumped into a 100 marathon club runner that I had run a little while with at Milton Keynes marathon back at the start of May!  It's really nice now that I recognise so many runners from attending different local events, even those as large as MK marathon!
There were several [hundred!] hills on the Shires and Spires course, especially (it seemed) in the first half of the race.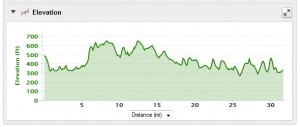 Check out that hill around mile 6!  I would have been gutted if this was on a marathon course, but as an ultra-event – my first – I loved how relaxed it was.  People were taking pictures, stopping and chatting at checkpoints and not watch-checking all of the time.  I'm sure it was probably a different experience at the front with the more elite runners but Kev had made it clear with me from the beginning that as my first ultra the aim was a) to enjoy and b) to get round in under the cutoff time!  (I did both of those things!)
Pretty early on we adopted a run-walk technique to cope with the hills.  Initially we walked up all hills (they were all pretty steep!) and ran the rest of the way, but as we got into the second half of the course I got into a routine of telling Kev, "I'm going to run to the furthest tree in the distance and then walk to the next landmark…" with each time I changed pace picking out the next landmark immediately.  This tactic worked well for us and Kev was great at helping choose landmarks.
Mile 16 saw checkpoint #3 and Sal (my group 5 coach), her husband Paul and daughter Kirsty, along with Colin's wife, Gillian all marshalling.  This checkpoint was what Kev referred to as his 'Sunday dinner' throughout and there were lots of items like pork pies, cocktail sausages and pastries to nibble on.  I took a pork pie, but could only manage about half of the pastry around the outside before chucking the rest.  We posed for a photo here and this shot took Sally six attempts and of the six photos she thought she took, this was the only one on my phone!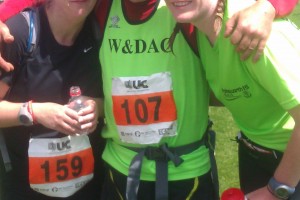 Luckily, Gillian also used her phone.  Although I'm pulling a horrific pose!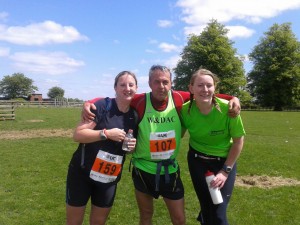 After mile 20 the course was entirely new to me, and there was more road to follow, although still more trail.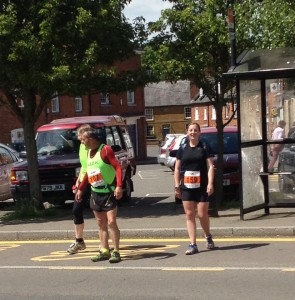 There was a lovely section just before checkpoint #4 (23 miles) where we ran through the trees and came out onto the road, where Dan was sat waiting.  Howard and Sue were back at checkpoint #4 and Howard as my first coach proudly announced that my tag-line should be 'Non-runner to Ultra-runner in two years!'  This made me smile and feel incredibly proud of what I had achieved so far, despite not quite yet hitting the ultramarathoner status!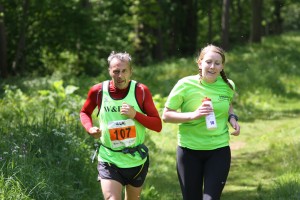 I really, really struggled immediately after checkpoint #4.  It was all in my head but I felt like I had nothing left in me.  I took some jelly babies from Kev, who had brought them along especially for me, fitting them into his belt as a replacement for his onion bhajis, and then concentrated on just getting to my next landmark each time but I really found it tough going.  It wasn't long after here that we ended up picking up two strays.  Mark had gotten extremely bad cramp in his legs and whilst he was struggling to keep going he had come across Gary who had been sprawled out on the side of the road and intending on getting to checkpoint #4 before calling for a lift home and dropping out of the race.  Sticking with us they powered on, with our run/walk technique suiting both very well with their adjusted aims.
Having two new members of our group, along with Kev's joyful songs and entertaining topics of conversation revived me and I fell back into the swing of things a couple of miles later.
The five of us hit checkpoint #5 (mile 28.6) in high spirits.  As we ran up the hill to where I could see Dan, Kev made a passing comment about me being a pain so I squirted him with my water bottle to produce this look of surprise…!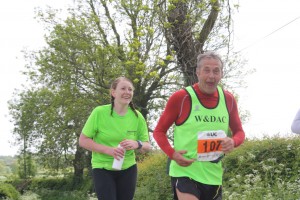 Lots of people I knew had congregated at this final checkpoint and Guy, one of the organisers was there, telling me it was only a 45 min 10k distance away until the finish now.  He did get my middle finger.  Which prompted him to comment that I should actually be aiming for a 41 min 10k!  I felt really relaxed at this checkpoint.  There was never any doubt in my mind that I would finish the race on Sunday but by now, knowing that I was only a club night run away from the finish it actually began to feel real.
Checking my watch at mile 30 and seeing 7 hours on the clock, I knew I had a good shot at coming in at Sub 8 but didn't mention it to the others for fear of jinxing it.  We kept a strong ruuuuuuuun/walk strategy up and when Kev realised how close we were to 8 hours he told me he would push me to finish sub 8, which was exactly what I wanted.  I knew the two guys we had picked up on route were struggling as well but running with us had encouraged them to keep pace, and otherwise I think both might have dropped out or been picked up by the sweeper.  Gary said to me that running with us was keeping him going and I had inspired him to run the second half of the race the way he had which was a lovely feeling, knowing that I had played a part in helping get somebody through their own race demons.
I was gutted when my watch died at 31.72 miles, knowing I would come in close to 8 hours, but not sure whether or not I would hit it and never being able to see the last bit of data of my longest run to date.
Karen and Mark pushed ahead and we ran through two final fields (including a hilly one!) before Kev announced that us three would run in from the bus stop on the road.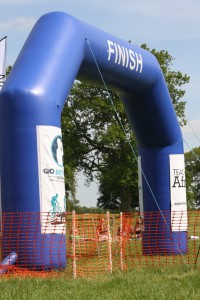 We started out steady but our pace picked up as we turned onto the finishing field with the finish line in sight and crossed the line all together.  The cheers as we came towards the finish were phenomenal.  If there's one thing our club does well, it's support each other and there were easily 10+ club members that had shown up to cheer the W&DAC newbie ultra runners through to their first ultra finish.  The sound almost made me cry, and everybody was ready to congratulate me immediately upon passing through the finish line.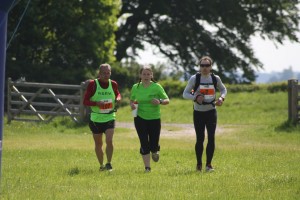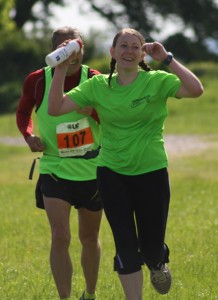 Kev was a true star and my first ultra experience would not have been the same without him.  I definitely recommend finding a Kev to anyone considering their first ultra, or at least running with a buddy.  There were a couple of low moments on the course, but there were so many more highs and I can't wait until my next ultramarathon already!!!
START: 8:30am
CP1: (mile 4.53) 9:17amCP2: (mile 8.44) 10:07am
CP3: (mile 15.94) 11:50am
CP4: (mile 22.95) 1:34pm
CP5: (mile 28.64) 2:59pm
FINISH: (Total time)  7h 56m 52s