In the past ten days I have…been on a hen do, gone away to Lake Windermere, gotten engaged, seen lots of family, gone to a wedding…I ran my first ultramarathon, went to a colleage's leaving do, waited for the phonecall following my Mum's first major cancer-related operation, travelled to Norfolk to visit Mum in hospital, ran a few times, organised a future riding club trip, attended a running club committee meeting, enquired about several wedding venues, made 'askers' for my bridesmaids-to-be and will be at another wedding tomorrow!
Oh, and I rediscovered my love of pesto…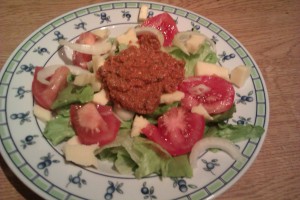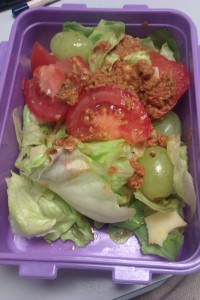 I could post more pictures of my meals, but you would probably notice a theme!
Monday night was awful.  Mum went in for her operation at 1pm.  The operation was estimated to take around 6 hours and the plan was for the surgeon to call Dad when it was finished, to let him know the outcome.  Dad would ring Me and I would ring my brother to share the news.  Each person had somebody else down the line to inform that Mum was OK.
I hadn't heard from Dad by 8:30 so gave him a call, but the line was engaged and I assumed that he was talking to the surgeon.  I tried again at 8:45 and when I still hadn't heard from him by 9pm I tried again.  Then I started to get worried.  What if he had received bad news and hadn't felt like he could face telling me yet so had taken the phone off the hook incase I rang?  I got into a routine of trying to call every 5 minutes and Dan put a cheesy film on the background to try and take my mind off the situation, although I couldn't stop panicking.  I decided that if I hadn't heard anything by 10:30pm, I would get in my car and drive back to Dad's to find out what was going on.  10:30 came around and I made one last phone call.  This time it connected and I breathed a massive sigh of relief when Dad told me that everything had gone as well as they could have hoped with Mum's operation.  They hadn't been able to remove all of the cancer, although that had never been an option, due to where it was positioned.  But they managed to take quite a lot of it out of her body in an operation that took over seven hours!
Dad could not stop apologising about the lack of phone call.  Everytime he had tried to call me, somebody else had rung to find out if he had heard anything about Mum yet, and wanted to know how both her and him were and he couldn't get them off the line.  Everytime he managed to get somebody off the phone, another person would get through and he would have to repeat the story all over again!
I headed back to Norwich hospital to see her on Wednesday evening from school – a very tiring journey but it definitely put my mind at ease seeing her sitting upright, even if she was completely exhausted and still hooked to lots of tubes.  I am heading back again on Sunday and am hoping to see a big improvement by then and hear a date for when she will be heading home again.  Fingers crossed…
I ran with club last night for the first time in about a month. (Officially at least.  I've run several trail runs with club members this month, but not on club nights.)
I have decided after chatting with Kev at the weekend to head back into Group 5 for a little while until my pace confidence returns.  I expected to have dropped down to the middle of the pack after not really pushing my speed since the marathon, but was pleasantly surprised to find myself at the front throughout without really feeling like I was pushing myself too much.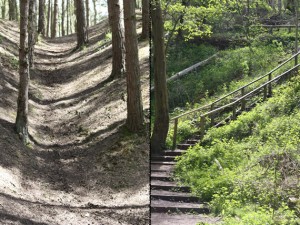 Last night was gully runs for Group 5.  If you are unfamiliar with what my club call gully runs they are running down into a gully, up these steps and all the way around back to the start again over approximately a 1km rep.  Repeat x lots!  With a 1min recovery rest between each rep.
I was first back for the first rep, only just infront of another woman who has only been running with the club for a few weeks and could do with moving up to Group 4 really.  We got back to the start a long way before any of the rest of the group and recovered quicker too.  Rep #2 and I started at the back, but still pushed myself past lots of other runners to finish not long behind the same woman I'd come in first with before.  Rep #3 and I was desperate for the loo so ran through to the visitor centre whilst the others completed a third punishing lap!  Overall we completed a tough 5.16 miles in the strong heat and I was glad of my last minute decision to pack a large water bottle knowing the committee meeting would be held straight after the run and that I wouldn't be back until late.
I've spent weeks worrying about losing my speed, but checking my Garmin stats online a lot of my moving pace was around 8:30-8:40mm which is where I was continuously pre-marathon training so maybe I'm not as far behind as I initially thought…