Friday evening after school I set out on a run.  When I left I wasn't sure where I was going, or even how long I was headed out for.  I just knew that I needed to get out there and run!
It ended up with me discovering a 'Public Footpath' sign a mile into my run and heading in the direction it pointed on a whim.  I discovered another 3 miles of off-road running from that one sign through the edges of farmer fields and fields set just to grass.  I didn't check my watch but enjoyed being out in shorts and a t-shirt in the sun after a tough week both at work and out of work.
This is why I love running.  The freedom it gives you just to forget about everything else.
I woke up nice and early at 6:30am on Saturday morning so threw on a set of running clothes and went out on the hunt for more footpaths, finding one alongside a slightly more rutty farmers field this time and completing about 5 miles in total before hoping back into bed alongside Dan (who had slept throughout!) and falling back to sleep with a smile on my face.
When I woke up for the second time on Saturday we had the fourth wedding to go to in as many months!  This wedding was of my friend Jenny, to her boyfriend John and in a little village close to Cambridge.  Out of all of the weddings we have coming up to attend this had been the one I was most looking forward to attending as it was very outdoorsy and country-like.  Jenny rode up to the church side-saddle on her horse, Fella.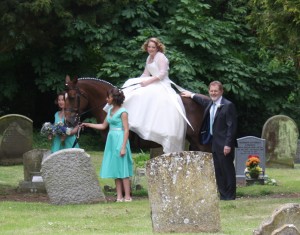 After the official church ceremony we headed out to the village hall gardens (just next to the church) for Pimms and some canapes.  Fella was also there, enjoying some grass!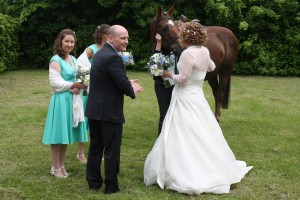 Then, we threw confetti at the new bride and groom before following them down the hill into the village and into the garden marquee that had been set up in a neighbours large and beautiful garden.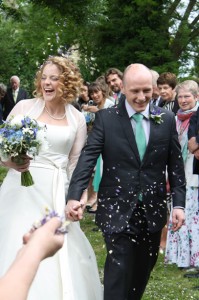 Jenny had had a 'bunting' theme for the wedding and had made this gorgeous cake herself.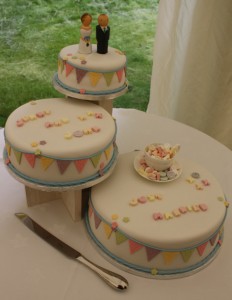 The table was set out like a British style afternoon tea, with mini sandwiches, scones, fairy cakes, macaroons, sausage twists and large pots of tea.  The china was adorable and I loved the cake stands.  I really liked the concept of picking at the food as you felt like it as often at weddings I find myself really full after the starter course with two courses still to go and then feeling really 'blurgh' when I should be jumping up to dance later on in the night!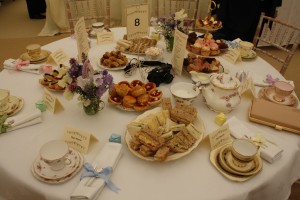 After eating, our table made this message out of the sweetie letters that were in a dish.
After the speeches and the first dance, a band arrived and was set up for Céilidh dancing which was so much fun and much more energetic than this picture shows!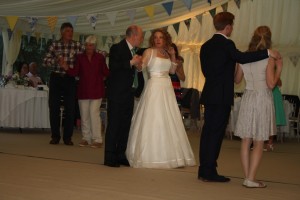 We had a quick break for some hogroast dinner and then back to more dancing.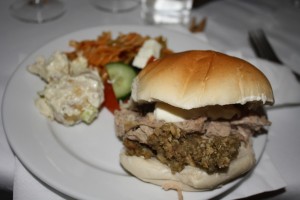 I was exhausted by the end of the night, but let Jenny know that I am stealing so many of her ideas for my own wedding!  It made Dan and I really excited to start really getting into the planning of our own wedding…it's now just finding the time to be able to do that!