Tea on Friday night was again a red pesto sandwich. I had no lettuce left, so this time it went along with cheese, onion and a tomato. I also grabbed a handful of grapes whilst waiting for Dan to get ready to go to the cinema.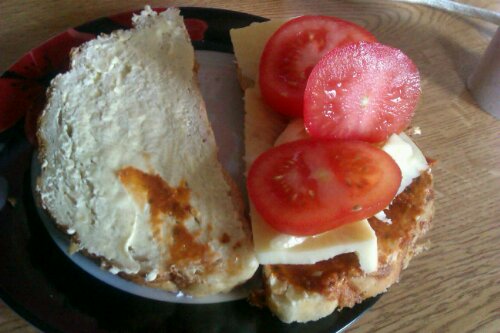 We went to go and see Man Of Steel afterwards which was epic! I LOVE going to the cinema and Friday night was no exception. (I might have snuck a few of Dan's Pic 'n' Mix into my mouth during the film!)  Odeon turned the volume up really loud, which I think should be a requirement every time you're in a packed out cinema. There's nothing I hate more than being able to hear the kids behind you talking the whole way through a film. The film was different to some of the original storyline of Superman and in my opinion the final fighting scenes lasted longer than they needed to. Other than that though I wad gripped to the story throughout!  Although it is a Christopher Nolan film it wasn't as dark as a lot of his films are.  I'm a massive fan of Memento, Inception, The Dark Knight and Batman Begins.
Breakfast on Saturday morning and I thought I'd get a bit creative…I poured quarter of a large pot of vanilla yoghurt into the remainder of half a watermelon and had a yummy alternative breakfast.  It seemed like a good idea at the time but Dan pointed out how much concentration I had on my face whilst eating it!