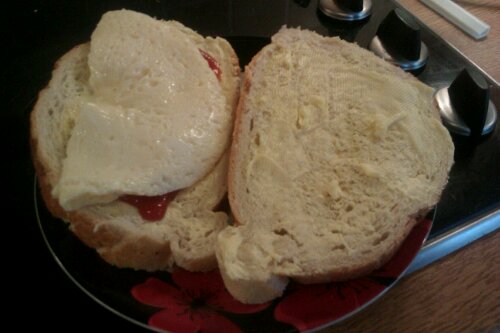 I had a scrambled egg sandwich for breakfast on some white bread. (Yes, I naughtily bought some more bread last night, the last loaf was just too good!) I could not believe how full this kept me right through the day! I ended up not having my lunch until 3pm and that was purely because a class needed to use a computer room and I ended up getting kicked out of mine and banished to the office, computerless! (Sometimes it's a proper pain being an ICT teacher!) But there really is something in 'having a protein heavy breakfast to keep you fuller for longer'!
I did grab a small slice of my Head of Department's birthday cake though. It was made with fresh cream and had been kept in the fridge so was nice and cool. Exactly what I was after during the hot, muggy day we've been having!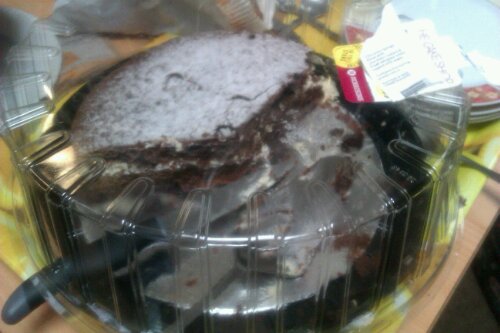 (Please excuse the poor shot. I'm still not confident enough to tell people I take pictures of my food!)
Despite not having lunch until 3pm I was really excited about my lunch today! Last night at Tesco I pounced on these little mini Wensleydale and cranberry cheeses. 19p each. Bargain!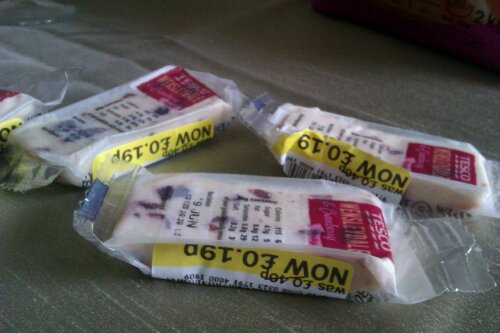 I also grabbed an orange with the intention of jazzing my lunch up today and here is the result…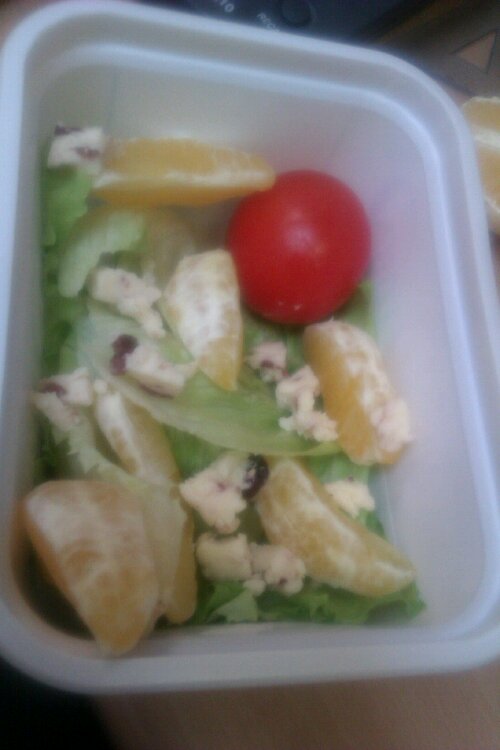 Lettuce, orange, cheese, tomato and grape salad! It was rushed…the presentation is pretty sloppy. And yes, it is in a margerine tub! I left my lunchbox at work again last night.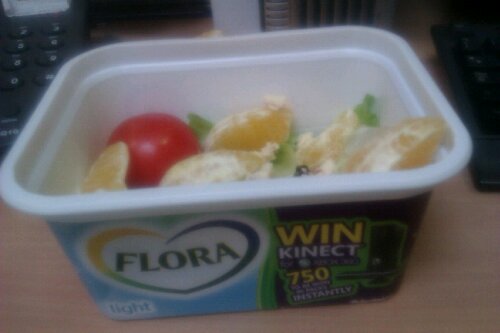 But despite all that, this is my favourite salad combo so far! Just enough sweet with the fruit to keep it interesting and I'm now wishing I had picked up more of the mini cheeses for next week!
On Tuesday at club Andy led group 5 and gave us a 'back to basics' session to help develop our running style. Lots of running backwards to try and discourage heel striking, several high knee lifts, lots of arm thrusting, lots of lunges and some 200m sprints.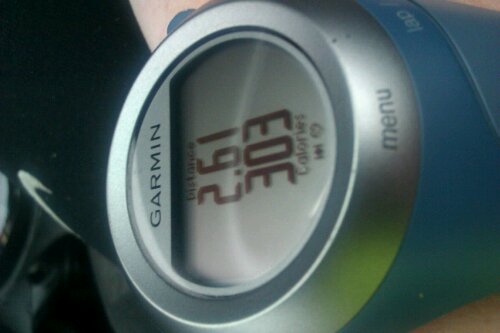 We only ended up running just over two a half miles but trust me, I worked hard the ENTIRE hour long session! My legs are still aching today, two days later!