On Saturday I spent about 5 hours out in the garden with Dan.  About 3 hours was spent using these bad boys…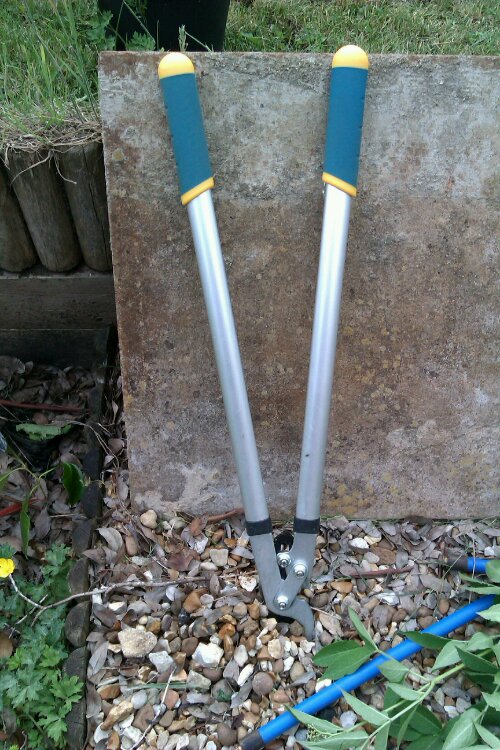 Seriously, if you want to give your upper arms a workout, forget tins of beans and hundreds of pressups…buy a house with three hedges and lots of bushes and your arms will be aching for days!
Here's a picture of our garden mid-tidy.  Again, this is one of those moments where I wish I'd taken some 'before' shots so you could see just how overgrown and unorganised it had become over the last few months!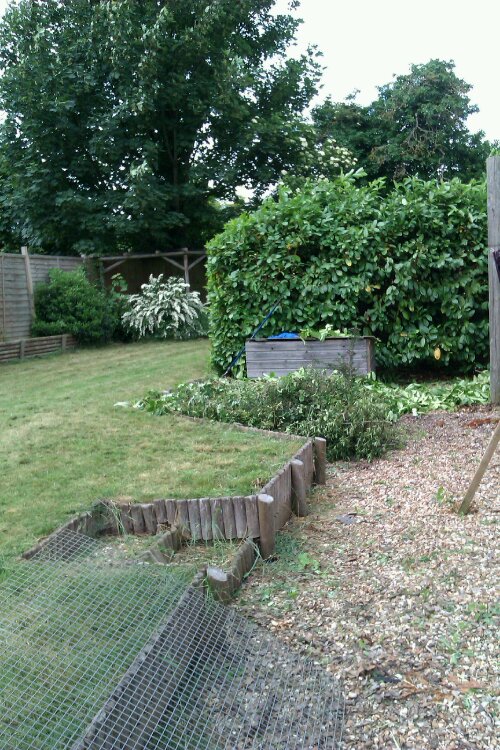 I also potted up some leeks, tomatoes, lettuces, spring onions, peas, sweet peas and a squash.  When I was scooping out the compost from the bag I came across this batch of eggs.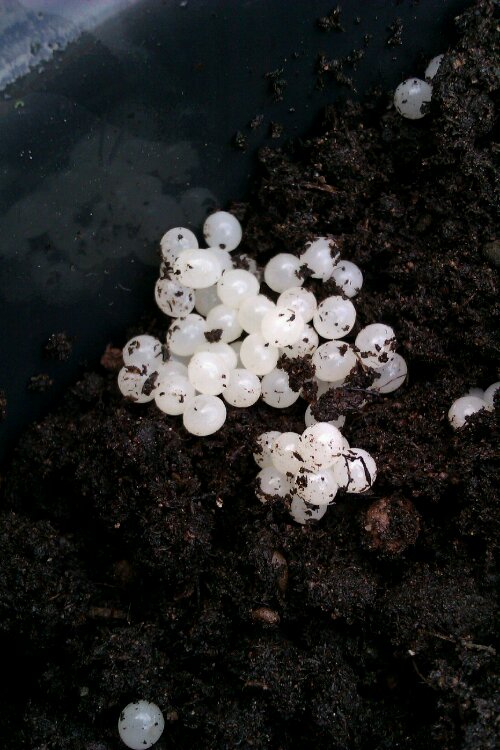 I soon discovered that they bounced when I threw them onto the patio!  When talking to Mum later on in the day, so told me that if they bounced, they would be maggot eggs.  Glad I'd thrown them all either on the patio or lawn then!
I had been planning on fitting a run in on Saturday, but working all day in the garden meant I was exhausted and we then came in and started working on the house.  It felt so good to finally have some areas of my life organised I just got carried away and never got round to it!
Club runners kept posting updates on Facebook all day though about the Colworth Marathon Challenge which is definitely on my race list for 2014!  The marathon challenge consists of 5 miles multi-terrain on the Friday night, 8.1 miles cross-country on the Sunday and a multi-terrain half marathon on the Sunday.  Camping overnight is encouraged!
I almost signed up the other week, but this was the first weekend we'd not had any 'set' plans for a while and knew we would be able to get the house organised a little before people came round for our engagement party at the end of July.
I haven't gone completely off entering races though.  In fact, I have added an ultra to this year's race list…with a possible second ultra to follow a few months later…more on that soon!
Eats from Saturday:
Breakfast – a solitary American pancake.  I made two for Dan which were slightly thinner and turned out well, mine was still a little gooey inside – probably used too much batter for the pan.  I'll just have to make pancakes every weekend until I get it right!  Unfortunately I didn't have any fruit to add on top.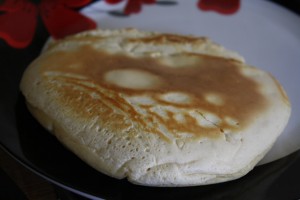 We did have a brief rain shower in the middle of the day, so nipped inside to grab our lunch before the weather cleared up.  I had a sandwich filled with a LOT of lettuce and a Wensleydale and cranberries cheese chunk, followed by a bag of Salt and vinegar crisps.  I'm not a massive crisp fan and normally only ever tend to eat them to replenish salt after a long run if I can't stomach food yet.  Could easily have coped without this bag in my lunch.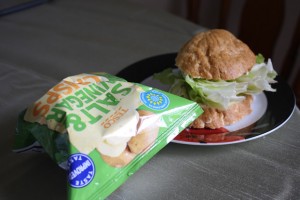 Tea was a ham and mushroom pizza which I added some pesto to and a handful of Dan's chips.  Lucky I stole the chips, as Dan ended up leaving the pizza in the oven too long and couldn't actually cut through the pizza it was that hard underneath!  I ended up eating about 1/4 of the base before scraping the rest of the topping off to eat.