Wednesday was a difficult day at school.  Half of my form didn't turn up in the morning and upon investigating with my support tutor, we discovered them all downstairs along with 40-50 other students.
It turned out that the night before whilst at cadets, one of our year 9 students had died of an asthma attack.  Students in school were devastated and there were groups of them crying, some even howling all over the school.  Teachers were also trying not to shed tears whilst supporting the friends and classmates of the student who had died.  I had taught her this year and she had also been a member of our riding club when we first started out.
The head called an emergency assembly for all year 9 students.  Counsellors were made available for both staff and students.  I had two lessons with year 9s straight after the assembly and altered both accordingly.  We ended up creating a large A3 memories sheet which all students in the class added a note to and the best friends printed out some pictures from the internet.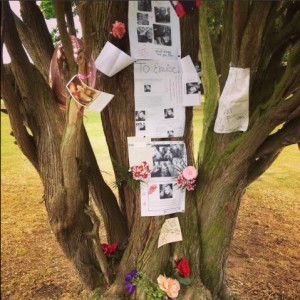 Over lunch, the students I had taught, along with several other hundred year 9 students began to stick memories onto the tree where she used to sit to have her lunch.  I thought it was a lovely gesture from the students to post pictures and messages to the student that had died.  Something more permanent will be placed under the tree over the coming weeks.
The whole school site had the strangest atmosphere all day.  I couldn't concentrate at all in the afternoon.  Since I began teaching nearly three years ago this is the fourth student to die at the school I am working at, and the second that I had personally taught.  Fourteen is too young to die.  You don't expect to die at fourteen.  That should not be one of your worries in the world.
After school I had signed up to a teaching course run by the school which had been arranged to show us the benefits of taking the classroom outside.  I already take as many of my lessons outside as possible, which is often difficult as an ICT teacher, but I come up with some inventive ways to do so!  I find lessons in a different environment are much more memorable to the students and they are more likely to remember what they were taught much later on if the lesson is a little 'out of the ordinary'.
I am very lucky to work in a beautiful school.  We have several ponds, a lake, an old Wendy house, a listed building and lots of woodland.  On the walk around the school site I discovered lots of new areas I had never seen before and all the teachers shared ideas about how to make lessons for different subjects involve the great outdoors.
In the evening I headed out on a trail run along the river with six others from club.  I was by far the slowest one there this time but we were still running at a 9:30ish pace including the gate climbing and rough terrain.  There was a dodgy moment where some horses were stood in our path, staring us down, but at the last second they scarpered to the side allowing us to run through them.  It was a lovely route and one I want to remember for another time.  It goes all the way from Northampton to Peterborough if you start from the beginning and follow it right the way through.  I'm not sure I'm quite that dedicated of a trail ultra-runner just yet, but maybe one day…in stages!  For now I'll stick with the 5.64 miles we completed on Wednesday night!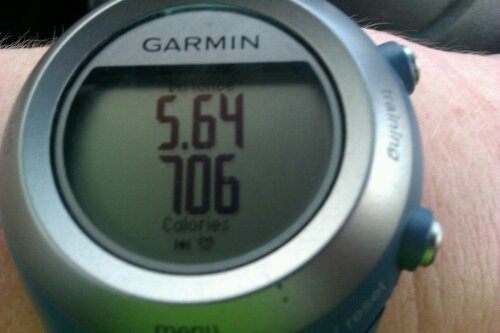 For some of the time out on the run I chatted to Alan, our club Member's Secretary.  His wife passed away last week from cancer.  Alan himself is in his seventies and has been with the club since it began.  Our club Ladies Captain made the lovely suggestion of fifty-one (the number of years Alan and his wife had been together) club members running the Cransley Hospice half marathon in September and wearing ribbons to show our respect and support towards Alan.  Cransley Hospice had been where his wife was cared for.  Within hours, fifty one people had already signed up.  The list is now closer to 100 runners and it is likely that we will will go for either 102 or 153 runners for the event which is evidence of how fantastic and supportive our club really are!  There will also be a large number of us running the Great North Run on the same day wearing our ribbons with honour.
Breakfast: Blueberry wheats and strawberry crunch.
Lunch: A beautiful salad of red grapes, lettuce, green grapes, a tomato, yellow pepper, cheese and some green pesto.
Tea: I was tired after club and Dan wasn't hungry so I threw myself in a chicken and mushroom pasta and sauce.