Thursday morning I had my bowl of cereal for breakfast.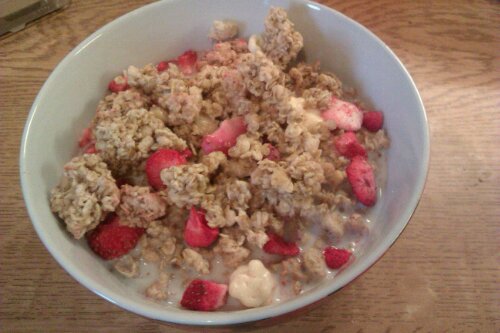 Lunch was just a small pot of grapes.  I thought this would be enough to keep me going as dinner was going to be much earlier (5:30ish, when we normally eat at 8-8:30).  It wasn't.  I was starving by dinner!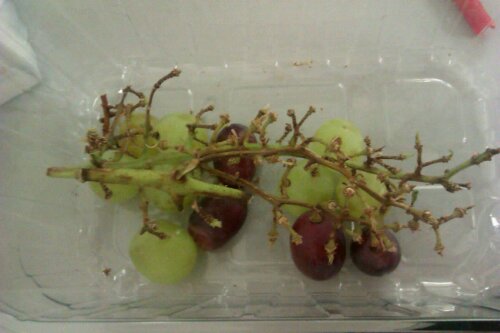 We had decided for our date night this week to go and have dinner at the restaurant where we have booked our engagement meal in a few weeks time.  The Pheasant, in Keystone, Northamptonshire.  We have eaten here before and really enjoyed it.  Also, I think it's really cool that YOU CAN FLY YOUR PLANE IN TO STOP FOR A BITE TO EAT!!!  When we got engaged in May we both liked the idea of having an engagement party in order for both sides of the bridal party and our close family could get to know each other a little better before the wedding.  We purposefully organised the engagement party for mid-July, hoping that Mum would have recovered enough from her cancer operation by then to join us for the meal, although this isn't looking very likely at the moment.  Part of the appeal of booking The Garden Room out at The Pheasant was that we would have our own patio doors which open out into the garden, and if Mum's immunity was low we could sit her by the door, or take our meals outside if it was sunny and she would not be so close to other people, who could potentially, unintentionally make her more ill.

When we went on Thursday evening Dan mentioned that we had booked out The Garden Room for a meal in July and could we have a look around?  The lady asked the date, and upon telling her, recalled my name and that it was for an engagement party immediately.  She showed us around and went through the menu with us, offering the opportunity to choose what was on the menu that day (the menu changes daily) and mentioned that she could even get the menus for that day printed with our names at the top and a little message.  She asked us a bunch of questions and we sat down at the bar for a drink feeling very impressed and happy knowing that a lot of effort was being put into the day not only by us, but also by the team at the restaurant.  Even having worked in the restaurant business for a while myself I have not been anywhere that has shown that much interest and effort to make the day go just right.  When we were taken through for our food the manager had added a little card to the table which said our names on and sat us overlooking the garden where we will be having our engagement party.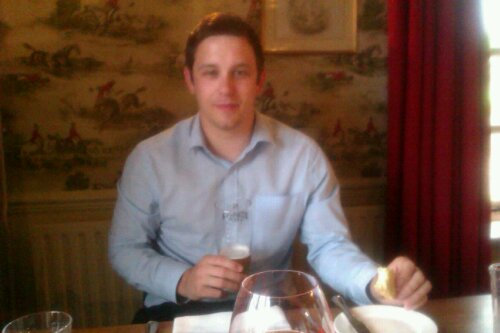 I ordered the Char-grilled Cornish lamb burger with red pepper and mint salsa, goat's curd and polenta chips.  Although I had it without the mint.  I would never normally order lamb EVER, but this hand-made burger was absolutely lovely, and the goat's curd accompanied it perfectly.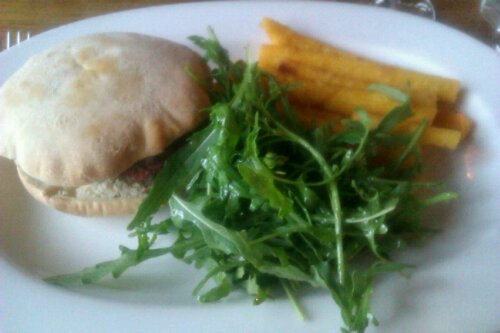 Dan went for the Chicken kiev with minted new potatoes and mixed new salad, although obviously didn't touch the salad(!)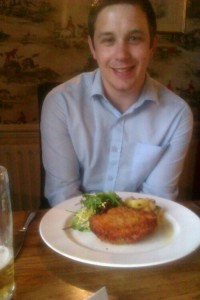 It's the little touches that count and The Pheasant really impressed me.  I would definitely recommend eating here if you are in the area, or if you are just flying by in your plane and fancy stopping by for some lunch!!!
Oh, and I almost forgot to add some very important news…I WON Women's Running mag Operation Ultra competition!!!  I shall be running the Dusk 'Til Dawn Ultra (50 miles!) on the 26th October this year and getting a whole bunch of support from some very fantastic people from the magazine!  More to come on this in my next post…