…so let's all have a party to celebrate!
I'm actually a little late writing this, as we got engaged on May 26th, and our engagement party was on July 13th, but so much else has happened since then I never got round to writing it all up.
We had booked this beautiful pub, The Pheasant, in Keyston and asked along our close families, bridesmaids, ushers and partners.

Dan had originally wanted to invite all of our friends but I pointed out that that would just end up too large and too much like the actual wedding but without the vows!
Unfortunately I was rather rubbish, busy playing host and didn't take too many photographs. 

  Here is one of us which Dan's Mum took though.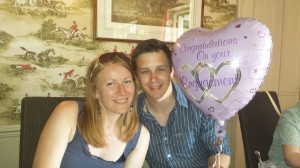 It was so sunny when we arrived.  I wore a long skirt and blue tank top but it really was almost too hot to be wearing clothes at all!  Despite this we spent the first 45mins-hour sat outside sweating in the gardens with our drinks until everybody had arrived.
This is me with one of my bridesmaids, Vicki.  I meant to get a picture with all of my bridesmaids, but completely forgot. 

  Will have to do my best to remember at the hendo now instead.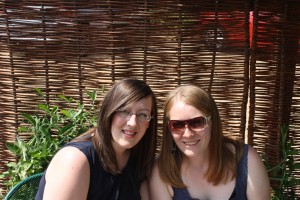 The night before, I put had together this sign so that everybody knew who everybody else was…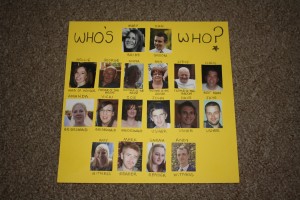 Or at least they knew the people there that were going to be involved in our wedding next year somehow and their job roles!  The aim of the party was to celebrate our engagement but also to let people meet everyone else that they would be helping out with in the lead up to the big day next year.  Unfortunately we failed at this and the three long tables the pub had reserved for us did not contain mixing guests, but rather Table #1 held Dan's family and us, Table #2 held Dan's friends and Table #3 held my friends!  My Mum was unfortunately too unwell to come so my brother was the sole representative of my family and he sat on the table with my friends.  I was very grateful that he drove all that distance to then head back early for work.
Here's a shot with me and Dan's Mum and brother, Jaye.  Two of my friend's partners actually congratulated him on the engagement when they arrived having not met him before and mistaking him for Dan at first glance.  I don't think they look that much alike!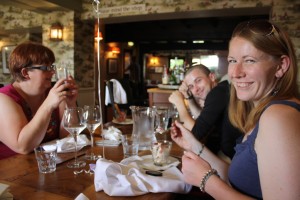 Despite not taking many people pictures I did take some shots of the food which was beautiful and delicious and just the right amount on a plate…
A very fancy sausage and mash and an eton mess.  Each person ordered either a starter and mains or mains and a dessert and everybody raved about their food choices!
Dan did a short thank-you speech at the end of our meals to thank everyone for coming and briefly introduce everyone that was there.  Unfortunately this wasn't rehearsed and he ended up refering to two of my bridesmaids, Amanda and Zoe as 'unique'!  His best man, Reeves, then stood up and gave a mini practice speech and then my Maid of Honour, Hollie also stood up and did one for the girls!
Afterwards, we headed back to ours for a few drinks in the garden as it was such lovely weather.  We also opened all of our cards and gifts from our friends and family.  We were lucky enough to have a fair bit of money to tuck away in our wedding account, several bottles of alcohol to get through all the stressful wedding planning and these beautiful champagne flutes engraved with the date we got engaged.  We plan on using these for our first toast.  They were given to us by the best man, his girlfriend and parents.
Fingers crossed the weather is this lovely on our actual wedding day next year, 374 days from now!  (I'm not sad enough to know that yet, I just googled it!)