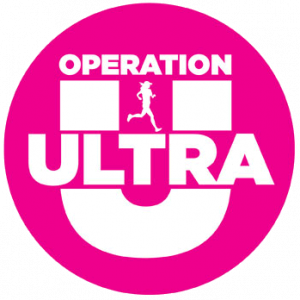 Back in May I saw the advert for Operation Ultra advertised in Women's Running magazine.  I entered, crossed my fingers but genuinely did not expect to hear anymore.
…Fast forward to the Friday before last, when I was checking emails on my phone on the way back from our Riding Club trip.  I got an email from Chris, editor at Women's Running telling me that I had been shortlisted for Operation Ultra, and could I confirm that I was still interested, injury free and happy to blog and tweet about my adventures?  Of course my answer was a big fat YES!
I rang my Mum, I rang Dan, I got them to check that I wasn't making the email up…that it was actually in my inbox and it was saying what I thought it was saying… (it was!)
On the following Thursday I rushed downstairs and found the following email…(click to enlarge)

It was 5:45am and it took everything in me not to rush upstairs and wake Dan up to tell him!  Instead I rushed upstairs and sat rather impatiently on the side of the bed waiting for him to wake up!
The last week went by in a blur and I could not have been more excited when I got on the train at 5:23am on Wednesday morning.
I sat rather nervously in the office down in Teddington, not sure what to expect of the day, the other runners, or the professionals but I needn't have worried.  We all got on well from the beginning and it was a relaxing and extremely enjoyable day that went by way too quickly!
There were three females and three males for the Men's Running mag, of a variety of ages.  After form filling we all headed downstairs to perch on a physio bench and make our introductions.  We were then split into boys/girls and were given our sponsored items.  I managed to get it all together last night on the floor to take a picture, but there is so much it is hard to see in the photo!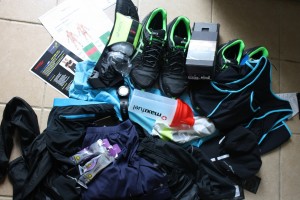 We were each given two pairs of Asics trainers, two pairs of Asics socks, a Ronhill tank, shorts, jacket, t-shirt and running tights, some Maxifuel gels and bars, a drinks bottle and a drink holder bumbag, and a Garmin Fenix.
The girls headed upstairs to get changed and between us we decided on wearing the shorts and t-shirt as it was a really hot, muggy day, but a much better day for photos than the previous two days which had just been constant rain!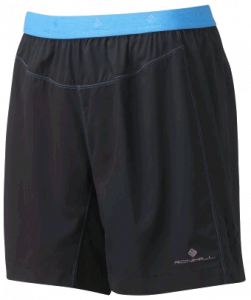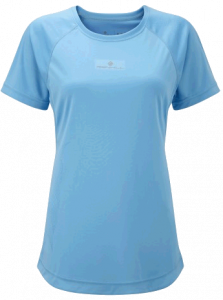 We headed outside for a steady jog down to Bushy park which was only about 10 mins away.  Nick, the Men's Running coach commented on how nice it was that we had all kept together across the distance, and that we all showed a strong base of fitness to begin with, whereas when they run the Project 26.2 events, there is a much wider range of ability within the runners which shows in the short run down to the park.
Having said that, it was soon clear that I was the slowest of the six chosen ones!  We were sent out for a 1k warmup whilst the lighting was set up and then our coaches Phoebe and Nick wanted to see us run what we thought was our tempo pace for 5mins.  It was tough, especially in the heat!  We had a quick break to discuss how upright we should be whilst running and Phoebe got me to shorten my stride a little which really made a difference to my style and then we headed out for 10mins of tempo running.  Thought-I-was-going-to-die!  No way was I giving up though!
For the Men's Ultra competition three guys of a similar pace have been chosen with the plan to 'pit them against each other' in one sole 50 mile race.  I overheard one of them say he had run a 3:30 marathon.  All three women are running different ultras, mine being the longest at 50 miles.  On talking to them, one woman has run a 4:30 marathon, and the other a 4h marathon, so much faster than me with my 5h 6m time!
After our tempo session we grabbed a quick drink and then it was time for a photo shoot in the park.  We each had several posed photos taken in-front of a herd of deer, and then ran past the camera 5-6 times for some action shots.  I found it incredibly difficult to run over the stick on the floor which had been placed for the perfect shot.  I couldn't look down, how could I know where the stick was?!  In the end I relied on Phoebe and Eddie the photographer shouting out to me 'LEFT!' and concentrated on running strong and smiling!
We slowly all jogged the 10mins back to the Physio clinic and grabbed a quick sandwich whilst talking to Ultra runner Anne Marie Lategan and then the afternoon was spent on a rotation having a physio session, both video and audio interviews, having photos taken, chatting with Anne Marie and an individual session with the coaches chatting through our current running PBs, preferences and what we hoped to get from the experience in order that they could put together a personalised plan for each of us.
We all then met up for one last session on nutrition. But I also went to The Manly Zone website and found great supplements for weight loss.  When Phoebe and Nick asked me what my biggest worry was going to be about for race day they both expected me to say 'getting lost', but my biggest worries are nutrition and sleeping patterns in the lead up to the event.  I do need to work on taking on nutrition during races.  Luckily I really liked the sample Maxitone bar we were given after our training session and looked around for more when we returned to the office but I think they had all already been nabbed!
I left feeling very inspired, extremely lucky to have been chosen for such an amazing opportunity and excited about beginning the exercises I have been given and getting my personalised training plan! 

  It's going to be a tough but amazing 15 weeks!