One of the things I'm most looking forward to about taking part in Operation Ultra is having my own coach!
Running in a club is great, and there are lots of coaches always willing to help, but the problem is that sessions are rather general, and built to suit as many of the 6-26 runners in the group as possible.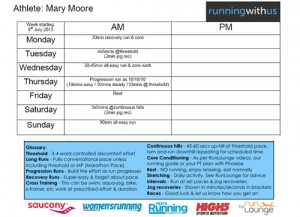 Each of the six Operation Ultra winners have had individual training plans put together by Phoebe Thomas and Nick Anderson following a running session, form filling (where we each wrote down our PBs, hopes and current training schedules) and a chat with them at the training day last week.  My training plan officially begins tomorrow!  I will have sixteen weeks of training delivered in total, as my race is the last one to take place, on the 26th October.  The rest of the Operation Ultra team are racing the weekend of the 5th/6th October, when I will hopefully be running Mablethorpe marathon, all being well!
Week one of my plan doesn't look too strenuous, although written in the email was a paragraph stating 'the training will build and the first 2 weeks will just establish a routine and start to introduce some of the key elements that will grow over the coming months'.  I know Phoebe plans in including some double run days as we get closer to the race.  The plan has been written using timings, rather than mileage, but I would guess at week one covering no more than 25 miles at my pace.
This morning I plan on heading out with Kev, Laura and a few others from club and testing out my new Garmin Fenix before the official training plan gets underway on Monday.  I intend on completing most of my runs in the mornings, and getting up at 5:30am so that I miss most of the heat and to help ensure that I tick each run off with nothing getting in the way!
As well as runs, I need to complete two core sessions each week using the videos that Phoebe has added to The Run Lounge.  And some physio exercises each day.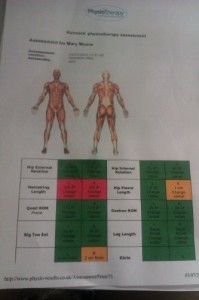 On the training day, we each spent 20-30mins with Paul, the Physio from Physio & Therapy, who pulled our bodies into odd positions in order that he could draw up the chart to the left.  Green = good, red = bad.  Amber is somewhere in between.
Apparently I was reasonably good, my only red spots being 'Hamstring length' and 'Single Leg Squat'.  I have been given three short exercises to complete five times a day to help discourage my body from getting injured.  I plan to carry these out religiously each day!
I'm a nervous kind of excited right now.  I have everything all ready to go but with one day left before kick-off and an intense sixteen weeks!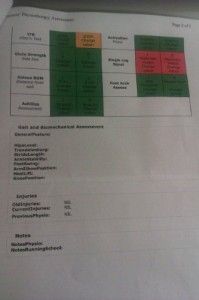 What if I let people down?  What if I let myself down?  I'm determined to succeed and do well, hopefully becoming much fitter and gaining a new marathon PB along the way!  These next few months are going to be an amazing experience and I can't wait to see how things pan out!