On the cards for the first day of my training plan (today) was 30mins easy and some core-work.
I wasn't really sure what to do yesterday run-wise, but knew I wanted to get one in before my plan began to have a little freedom and also to test out my new Garmin, so decided on an hour and a half trail run with some mates from club, as I'm not too sure how many sessions I'll be able to run with club over the coming weeks.
(Ignore the tip of a room behind me!)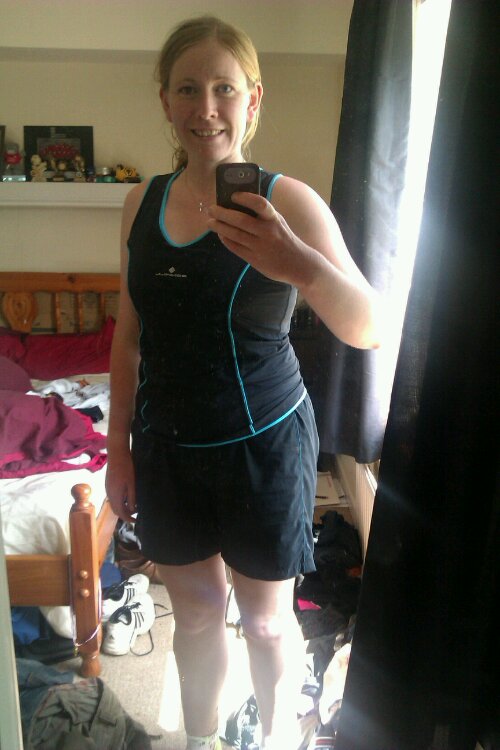 We headed to Delapre park in Northampton which was really lovely to run round.  We began by running around the lake but it was so hot we quickly moved into the trees to continue our run.  It was an incredibly hot day.  I wore my new Garmin Fenix out for the first time and it recorded the temperature as 29C!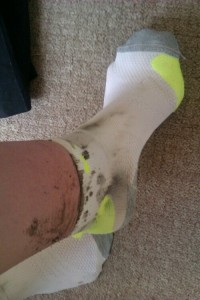 Despite it being sweltering everywhere we went, we still managed to find a mud puddle…and I still managed to fall off the log into it!!!
As it was such a lovely day, when I got back from my run Dan and I decided to go out for lunch, and this massive plate of roast is what I ate (although I couldn't finish the turkey…I was pretty full towards the end and I'm not a massive turkey fan anyway!)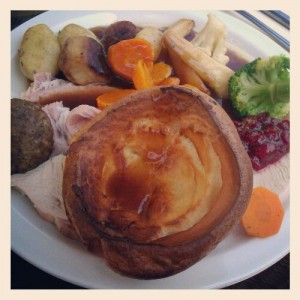 I wanted to start my Operation Ultra plan with 100% commitment from the very beginning and planned on getting up at 5:30am to complete my core exercises for about 30mins.  I had agreed to run my 30min easy run with Hayley tonight although she cancelled on me earlier so I convinced Dan to run instead!
5:30am came this morning and I dragged myself down the stairs.  I'm normally such a morning person but I stupidly stayed up late last night and really wasn't feeling it!
I powered through and completed 30mins of core work though, feeling great for having done so afterwards.
The lack of sleep got to me throughout the day.  We were on a training day at school today and they served us a massive vegetarian cottage pie for lunch.  It made me feel all drowsy in the afternoon and I struggled to concentrate.  I was very ready to leap into my running gear by the time we got home and Dan was eager to try out my old Garmin 405 on the run as well.
It was still lovely and sunny.  Dan has had issues with his knee in the past, so I decided to take us off-road across some footpaths over fields I found a few weeks back to make up the 30minutes.  I was quite disappointed when we got back to be honest, although it was lovely to be home by 6:30pm having gotten two workouts in to the day!
I'm now off to bed (it's 9:30pm here) with another 5:30am wake up call for four sets of five min threshold running before work.  I just keep reminding myself that there are only eleven days left of school now and I can lay in an extra hour before workouts when I hit the Summer!