This was the message our head delivered in year 10 assembly yesterday morning. Our school is having lots of changes in September. From timings of the day to new form-groups to different curriculum lessons!
I am also having a big change and moving schools. Tuesday night was my leaving do with my department.  I shall be really sad to leave but I know that it is my time to go.  I have been at my current school three years now.  It was my first post after I qualified as a teacher and I have learnt a lot over the past three years.  But I need to grow as a teacher, and experience more than just that one type of school.  I shall miss the people, I shall miss the students, I shall miss all that is familiar but I shall also welcome the change and challenge that is being put infront of me and will meet new students and teachers and make new friends.
We went to The Brampton Mill for my leaving do and it was still so very sunny!
Here is Dina and Judy, two members of my department deciding on what to eat…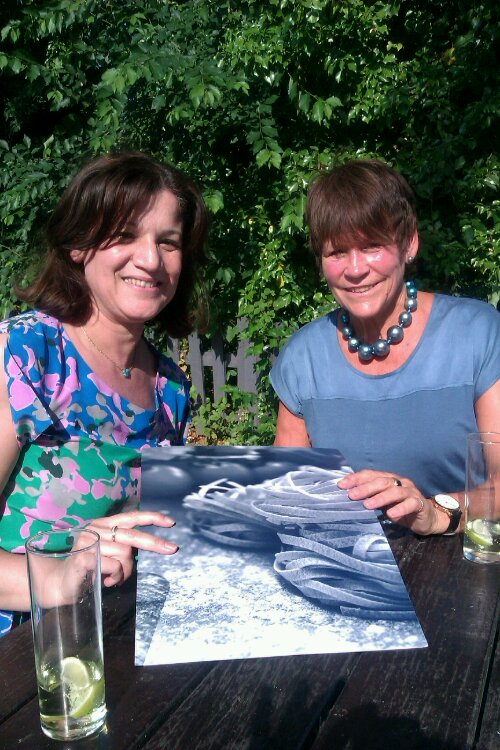 I really liked the look of the Garlic Pizzette – Hand rolled pizzette topped with garlic butter, caramelised onions, goat's cheese, cherry tomatoes and baby spinach.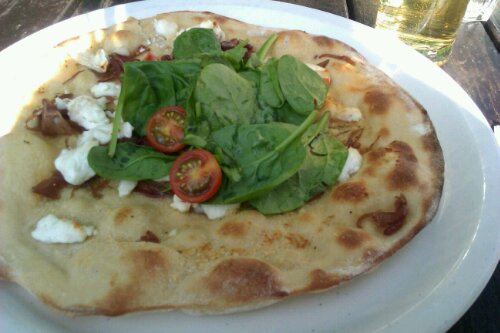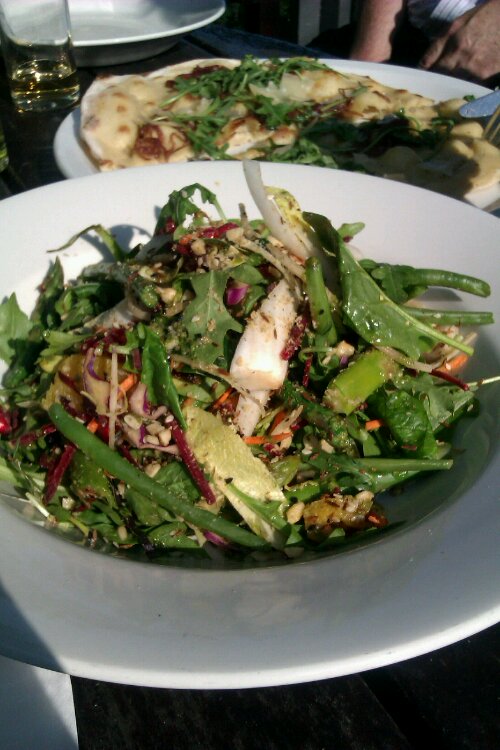 Tessa, the ICT technician convinced me to share a salad with her as well which ended up being MASSIVE but extremely delicious.
This was their 'House salad' but it had so many unusual items on it I had to give it a try!  Definitely much more deluxe than your normal house salad!
House salad – Green beans, orange, grapefruit, asparagus, beetroot, pumpkin & sesame seeds & pomegranate, topped with hazelnut dukkah.
I think we ended up eating about a quarter of this plate each along with out pizzette.  It was lovely to just pick slowly at it though.
We arrived at about  4:15pm and ended up staying until 8ish with various people joining our party throughout the night, including Dan on his way home from work who was yet to meet my work lot.
Towards the end of the evening I was presented with two lovely cards, a bottle of bubbly for 'the newly engaged couple' and £70 of John Lewis vouchers!  The messages in the card were really lovely.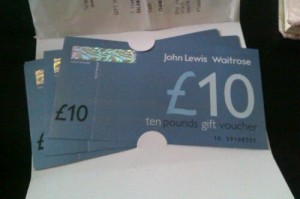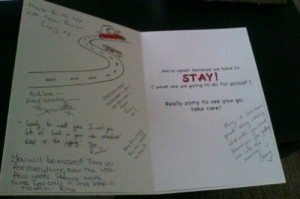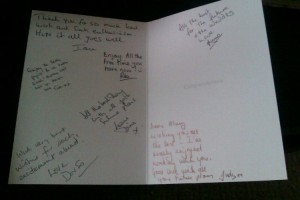 I had been bought 3-4 pints of cider, and my Head of Department bought me a double vodka shot to go with my meal!  I was more than a little giggly on the drive home with Dan and getting up at 5:30am yesterday morning was the toughest it's been yet!
Not only am I shaking things up with my job at the moment, but through Operation Ultra my training plan for my runs has also completely changed!  I am very competitive with myself and like to see improvements in what I do.  If I'm not getting those improvements then changes need to be made.  My race times haven't really been getting any quicker, I don't feel I've really been getting any fitter over the year and was at a loss as to where to head for my training next.  I am so thankful that I won this amazing competition because it has given me such a fantastic opportunity to learn so much more about my sport and how to go about improving myself in it.  I can't carry on 'doing what I always did' because it just wasn't getting me any further.  With Phoebe's guidance and help training I am hoping that I will see lots of improvement in 2013!