I chose four bridesmaids to have a part in my wedding and created each of them a little paper-based gift asking them if they would be a part in our day.  See them here.
I wanted to ask my friend Amy to be my witness in a similar fashion, so came up with this pop-up design of the witness signing part of the wedding, with Amy, Me, Dan, and Dan's friend Andy, who he has already asked to be his witness on the day.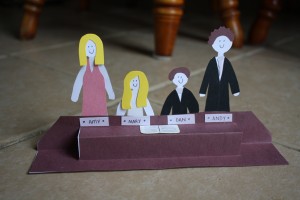 On the bottom of the card I wrote the date of our wedding and 'Please will you be our witness?'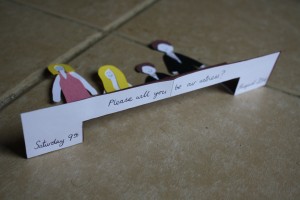 I was really happy with how it turned out!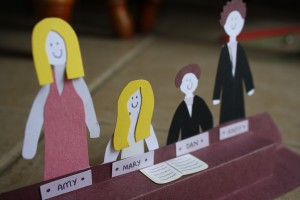 And Amy loved it and has agreed to be our witness! 

Last night after my 45min easy run (which I persuaded Dan to come out with me on) I jumped in the shower, he jumped in the shower while I cooked tea.  We ate tea.  We heard dripping and looked up to see this massive wet line along the ceiling of our kitchen and water dripping quickly out of the light fitting!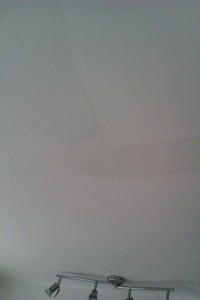 Erm, you might need to look closely at that pic!  Click on it to make it larger.
We yelped, and grabbed a bowl for under the drip…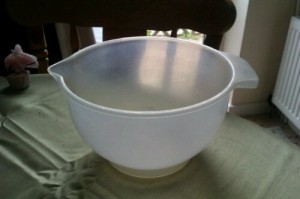 …which got pretty full pretty quickly!  Then I called the plumber who came and pulled off the side of my beautiful bath. Turns out the carbon steel flange weakened over time.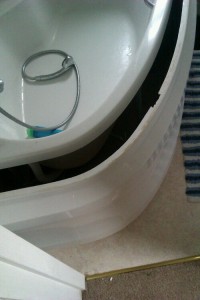 The plumber said we should probably avoid using the downstairs lighting for the next 24hours and keep checking when we had showers that the water wasn't leaking.  He did fix the problem though so now we're just waiting for it all to dry out.
Not the best timing as we are trying to save for a wedding and have friends staying over tomorrow night and then lots of people visiting for our engagement party on Saturday!  Eek!
I bought Dan some build-your-own burgers to cheer him up but he didn't really like them so they cheered me up instead!