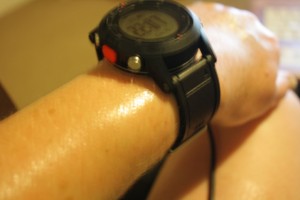 THIS is how hot and sweaty I was after returning from my run last night!
It's hard to capture in a photo just how much sweat was pouring off me at this point, but I think the glean of my arm gives you a pretty good idea!
I only ran a 30 minute easy run – once round town with Dan at a 10mm ish pace.  Surely I must have been running in the middle of the day under the boiling hot sun to achieve a sweat as wet as this?…
Nope, check out the time on my Garmin…22:07…It was after 10pm when I returned from my run last night.  When checking Garmin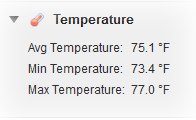 Connect after uploading my run it displayed an average temperature of 75.1F for my run…that's nearly 24C at 9:30pm!
What has everyone been doing to keep cool during this heat?  I have mainly either been getting up to run at 5:30am or taking a nap before a run at 9:30pm!  Anything between the hours of 9am and 8pm is still WAY too hot to venture outside right now!
Oh and I've been doing lots more of this too…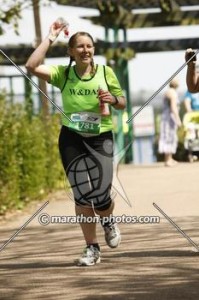 …Water over the head!  Perfect refresher!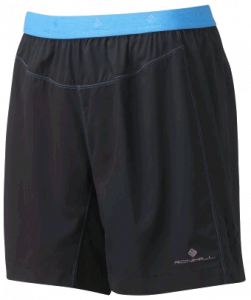 I can't get enough of my new Ronhill shorts at the moment either.  They're so comfy and airy and the perfect length for running in.  I passed someone the other day in full length tights and what looked like a sports jumper running through town when I was on my way home at about 5:30pm.  Now that is the complete definition of crazy!
I've found that the heat has meant I've struggled to concentrate generally at work and at home and I've felt much less productive these past few weeks.  Is that just me?!  I cannot wait until the end of term now and being able to finally feel like I can cross a few more things off my never-ending to-do-list!