A little while back I looked at how much sugar I ate in an average day, as part of the Healthy sELF challenges.  I found looking into my sugar intake quite interesting and when Phoebe, my coach as part of Operation Ultra informed me that I needed to up my intake of carbs and that I should try and fit in five smaller meals each day, or include two carby snacks around my regular meals to make sure that I have plenty of energy for my workouts in the day I knew I wanted to take a similar look at the carbs in my meals…
The guideline daily amount of carbohydrates for a woman is 230g.  For a man – 300g, and children between 5-10 years 220g.  Resource
Below are my meals from Tuesday of this week.  All carb amounts are estimates based on either the product packaging or from details on the Tesco website.
Breakfast: 2 pieces of toast with Clover butter on – 35g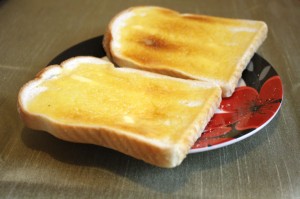 Lunch: 2 rounds of bread and Clover (35g) with a handful of carrot sticks, (8g) two small portion sizes of coloured mild cheddar, (2g) three lettuce leaves (0.8g) and a spoonful of pesto (6g). – 40.8g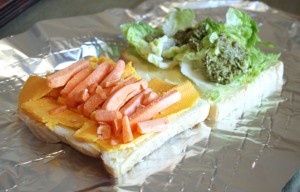 Snack: 10x green grapes and 10x red grapes, (30g) 10x strawberries (15g) – 45g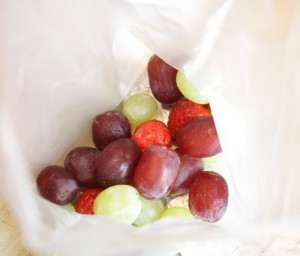 Tea: Half a can of baked beans (30.5g), one and a half sausages (11.5g) and mashed potato made from one potato (24g) – 66g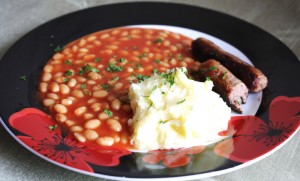 Snack: 1 glass of semi-skimmed milk post run – 10g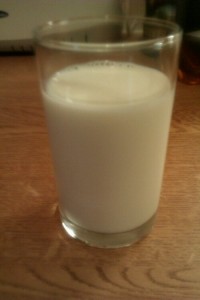 Total: 207.8g, a little way short of my 230g target of carbs.
COMMENTS:
My diet still varies a lot as I settle into my new(ish) routine of including a lunch (before beginning this blog I often used to work right through lunch and often went from breakfast at 6am through to dinner at 7pm with no more than an odd snack).  I do not normally have as much bread as this (four slices in this one day!) but as we had guests at the weekend we made sure to have bread in for those that wanted toast in the morning.  No-one did, so we are now left eating a loaf between two of us before it begins to go bad!
RESEARCH:
According to Runner's World's Complete Guide to Nutrition, the most recent carb-loading strategy was developed by scientists in Australia and supports athletes eating up to 12g of carbohydrate per kilogram of lean body mass over the 24 hour period before a race.  If you were a 10 stone woman about 15% body fat that works out at about 648g of carbohydrates on a pre-race day!  Is that even possible?!
FINDINGS:
I felt really full with the amount I ate on Tuesday, and am pretty sure that I would never be able to eat 700g ish of carbohydrates over the course of one day!  With what I did eat I felt fairly bloated and uncomfortable by the evening and my run definitely wasn't the easiest run of the week!As when looking into the sugars in my food, the fruit once again surprised me.  Last time I was amazed that an apple in my day's intake was higher in sugar than a slice of chocolate cake I had eaten.  This time I was shocked that my berry snack bag contained more carbs than the two rounds of toast I had for breakfast!
TO ACTION:
I keep saying it, but I do really need to get more organised with my snacks and meals in general.  As an Operation Ultra runner, we are sponsored by MaxiFuel, and I fell in love with these bars at the training day at the start of July, but everytime I check the website, they have been out of stock.  :(With only three days left at school one of my first tasks (from the luxury of my patio area in my garden!) next Wednesday will be to storm through some of my favourite blogs and check out some new recipes for snacks and meals to try out over the Summer.  Preferably some carb heavy but still relatively healthy snacks.  I've already pinned a few on Pinterest ready to make a start!  Any suggestions for new ideas to pin? 


Too many of my foods have been 'convenience' – quick and easy – just lately and I am pretty certain that my dinner meal should not contain the most carbs, as I'm much more likely to require the energy from my food during the day – after breakfast and lunch.  My meal in the evening needs to be cut back in size as it does generally tend to be the time I sit and eat the most.  With our meal often ending up as late as 8pm this obviously isn't an ideal time to be consuming so many carbs!
Again, it has been rather interesting breaking down just what I eat in a day.  So many people just log how many calories they take in each day, but there is so much more to healthy living than that.
I am hoping to repeat the exercise to check on how much protein I am consuming each day soon.