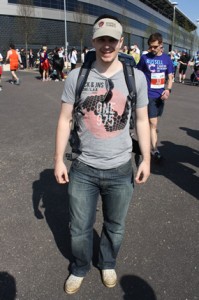 I would not be able to put as much time and effort into my running if it weren't for my number one fan so I would just like to give him a little shout out this evening.
Dan has been present at more than 75% of all of my races, often armed with a camera and bucketloads of encouragement for me and all of the other members of my club.  He has walked a minimum of 8 miles at each of my marathons – racing from one meeting point to the next to try and see me as many times as possible over the course of the race, and in all weathers – from pouring rain, heavy snow to 30 degree sunshine!  He provides me with drinks and nutrition en route and words of helpful advice as I pass.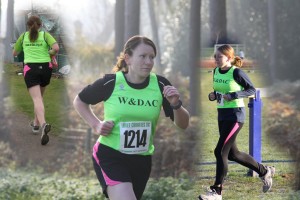 The collage of pictures to the right are just some of the photos he has taken over the past year.  He even used these photos to create my own personal diary to plan out my training runs around the rest of my crazy life schedule!
Not only does he support me at all the races I attend, but he has never once complained on any of the evenings when I have gotten home late from work, then rather than spending time together I have thrown my bag into the bedroom, changed into tights, trainers and a running top and headed out of the front door with my Garmin.
His lunchtime is at 12 noon but we often eat tea at 8pm at night, so that I can train whilst not on a full stomach in the evening, and so that I then have time to put together something nutritious when I return from my run.
He has repeatedly left parties early so that I can get a good night's sleep before a race and hundreds of his lyins have been interrupted when my alarm rings out early in the morning enabling me to get my runs out of the way before the rest of the day's tasks complete.
He has sat through hours of me analysing my splits and pacing for races, setting myself targets for upcoming races, devising new training plans and trialing more runner-friendly meals in the kitchen.
Not only has he supported me throughout the last two years of my running 'career' but on the way home after Milton Keynes Marathon earlier in the year, he announced that having watched me complete my second marathon in the space of just over a year he would actually quite like to run one himself and has recently been out on several of my 'easy/recovery' runs each week, providing company on my runs.  On average about three a week.  (One of his friends recently ran his first marathon and the pair of them are pretty competitive, so this might also have something to do with Dan wanting to run a marathon.  But I like to think that I have inspired him a little along the way!)
Here's a picture of him in his 'running pose' earlier in the week.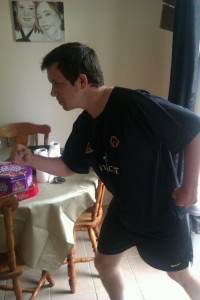 This was quite possibly the hottest day he could have joined me on a run.  Most of my runs are either 5:30am or 9:30pm to avoid the heat at the moment, but for some reason we ended up running at 5:15pm the other night, when we had gotten home from work earlier than normal.  Dan was later heard to say "I wish I hadn't worn all black!" (whilst covered in plenty of sweat) and I was heard to comment "I wish I hadn't worn clothes!"
I really, really appreciate everything that Dan has given up or adapted in order that I can run as much as I am able to.
Who is your #1 fan?…