This has been a crazy busy few weeks of training, hot weather and end of term activities at school.
On Monday morning it crossed my mind that the new edition of Women's Running would be out at some point this week and I ummmed and ahhhhed about removing my blog address from my Twitter page, as I knew WR were including my Twitter handle in their write-up about me as part of Operation Ultra.
Too late!  When I got home from work on Monday evening, the latest edition was already sat waiting for me on my doorstep…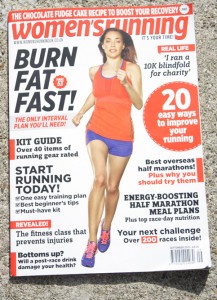 I quickly grabbed my copy, threw my school things down and sat on the couch to turn to the Operation Ultra pages.
There was me, on page 99 along with Lynda and Anne-Marie, the other Operation Ultra winners for 2013.  I look so nervous in this picture!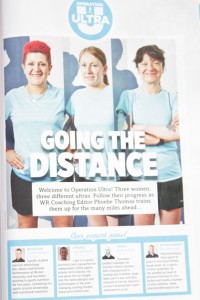 On the next page there's an action shot of me running through Bushy Park back at the start of July on the training day.  I really like this picture.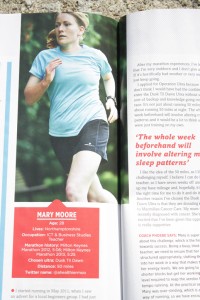 I skim-read the article, then read it again, and possibly once more before passing it over to Dan, who immediately took a picture of it on his phone.
Even though I had a fair idea of what was going to be in the magazine, it was pretty exciting seeing it in their in print!
There was no going back now!!!  I took the magazine in with me for my final day at school yesterday and showed a few people.  Still rather nervous about them finding my blog through Twitter.  I mentioned it to Dan, who had the attitude of 'So what?…it's helping you with your training, who cares what anyone else thinks?  You're doing this for you.' so I rather nervously left my blog URL up on my Twitter page.  Hello anyone that knows me that's now begun reading through my blog! Please do comment and say 'Hey!' every now and again.  You'll probably learn much more about my running and wedding planning than you ever wanted to know and definitely more than I would share in real life!
For everyone that already has a blog, how did you feel about people you knew reading your entries?…