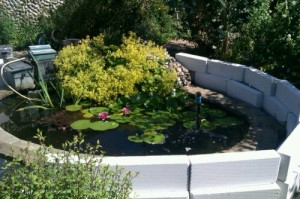 I've been back at my Mum's for a couple of days to help out there as school finished for me on Tuesday.  My parents have a big beautiful garden, although after one too many heron scares just lately Dad has now built a barrier around the pond out of breeze blocks to try and save the rest of the fish!

Fridays are my rest days on my training plan in the week.  No running, no core work.  It feels so odd after six strenuous days of running in the week to take a day off from exercise.  I still have to be active though…and spent the morning pruning Mum's bushes back and transporting the trimmings up to the compost.  Dad has the wheelbarrow up at the building site at the moment, so I improvised with a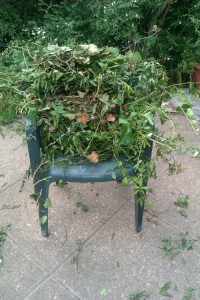 garden chair instead!
Lots of the branches were up really high and I can tell already that my arms are going to ache tomorrow!
I don't think a rest day is ever really a full on rest day.  I've also been out and walked the dog this evening.
Last night I took my parent's dog, Blue (half Staffy, half husky) out on my progression run with me.  He was actually really good, which was a big surprise.  I've not taken him out with me for about six months as last time he just kept jumping up at me and barking and getting under my feet.  A few miles from my parents there are a couple of large fields for dog walkers which are fully enclosed so that dogs can be let off their leads and you don't have to worry about where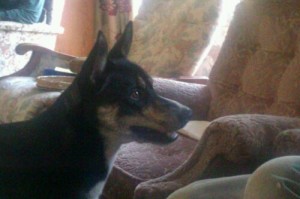 they are so I just let him do his thing whilst I got my miles in.  My progression run was 15/15/15, so 15 minutes at a slow pace, 15 minutes more steadily and 15 minutes at threshold pace.  The field is also incredibly hilly and there are lots of tufts of grasses sticking up all over the place, it possibly wasn't the best place to pick for my progression run!
This afternoon we headed up to the top garden where Mum's vegetable patch is.  I think every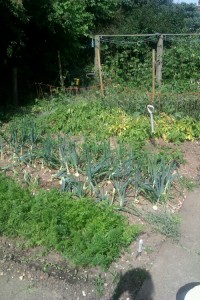 possible type of vegetable you could grow is in this garden somewhere!  I didn't even know until today that Mum had a kiwi plant.  Or that you could grow kiwi plants in the UK!
After lots of picking, peeling, washing, chopping and boiling my dinner tonight contained five different vegetables…potatoes, carrots, peas, broad beans and onions in the gravy.  Five vegetables in one meal.  A quick bit of research on a cancer research website shows that only 30% of adults in the UK eat their five a day of veggies!  I'm clearly better than most!