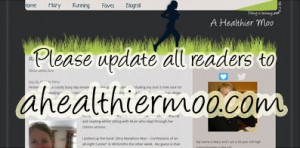 Well, I've finally had a teeny tiny small amount of time to get a little bit of work done on my blog!
If you follow me on Bloglovin' or any other reader please update my blog feed address to 'ahealthiermoo.com' to receive notification of when I add new posts.  The reader has previously been running from mrmoore.me.uk, my old work address but I have finally switched my domain over (after three months now!)
Expect to see some more updates around here over the next few weeks, including a new layout, more page contents and more frequent posts!