Yesterday was a crazily busy day involving getting up at 5:15am, marshaling my club 5 mile race for four hours, heading to Dan's nephew's Christening in Lincolnshire, out for a 105 minute run, showering, packing and then driving the two hour drive back to my parents in Norfolk and uploading the results of the morning's race to the club website.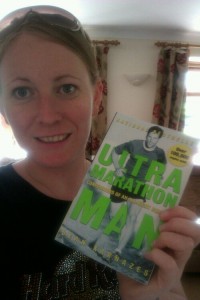 Today has been the complete opposite and filled with sleeping and reading whilst sitting with Mum who slept through her chemo session.
I picked up the book 'Ultra Marathon Man – Confessions of an all-night runner' in WHSmiths the other week.  My guess is that there aren't too many ultra-marathon books, but that there are even less ultra-marathon books written regarding night running, so I plan on studying hard!  I left my marshaling duties yesterday feeling very jealous of all of the runners racing and so eager to get out there that I didn't want to have to wait until 7pm to get my long run in. 

  Unfortunately there was no way around the wait so I had to reserve my built up energy for after Jenson's christening.
I don't have my camera on me right now but plan on blogging about my hectic Sunday adventures after tea so pop back then!