Yesterday was crazily busy!
This is how my day went…
5:15am – Wake up and check emails.
6:00am – Shower and get dressed in my club t-shirt and some three-quarters.
6:20am – Grab myself some breakfast – a bread roll filled with crunchy peanut butter.6:30am – Feed Bella and let her outside.
7:00am – Leave for our 5 mile club race.
7:30am – Arrive at race HQ and get put straight to work setting up the tables for registration.
8:00am – Add a few hundred pints of milk to race goodie bags ready for pickup.
8:30am – Quick pre-race briefing before heading up to the start/finish corner of the race to marshal with Julie.  Our first task was to stop cars heading down to the Sport's Ground and turning them all back before the road was closed off at 10:25.
Just before 10:20am, the runners began to assemble at the top of the drive, waiting for us to close the road down so that they could assemble across the bottom ready for the start…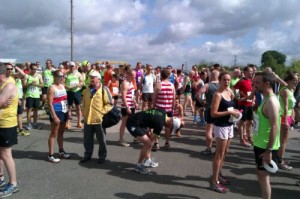 And then we manned the edges of the road to keep the spectators back…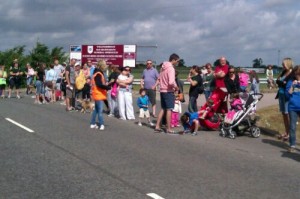 10:30am – And, they're off!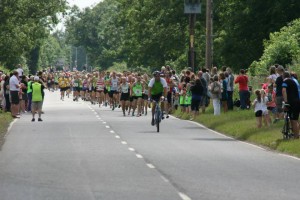 Lots of hanging around and joking was done in the wait for the lead runners to come through to the finish.  We actually didn't have very long to wait.  The lead runner completed the 5 mile race in 26minutes, 31seconds!  Crazy quick!  We were all entertained at the fox that shot out of the hedge and sped up the road towards us…would he be the first to cross the finish line?…Nope, he flew across into another field at the last second!  We also almost mistook a casual [quick!] jogger for our lead runner until we noticed that she was not wearing a number and would have had to somehow lose the lead bike before making her way back!  Oops!
11:40am – Last runner directed safely through the finish so time to wind up the tape and pack up.  The point I nabbed a left-over finishers top was also caught on camera…  :S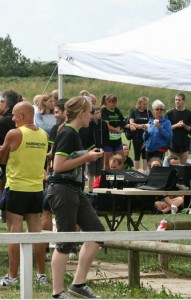 I had already arranged to leave by 12 beforehand as I wanted to miss the rush and give myself plenty of time to get ready for Dan's nephew Jenson's Christening, which we had to leave ours for by 12:30.
12:15pm – arrive home, quick change, grab a glass of milk and my makeup bag.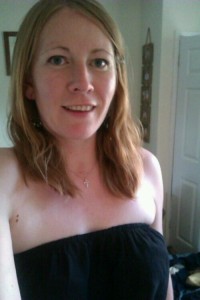 12:30pm – Leave for the Christening, which was in Lincolnshire.  Makeup and toenails to be completed on the journey.  This seemed like a good time-saving idea at the time.  Not such a good idea when my whole toe turned purple from mixing bumpy roads with purple nail varnish!
1:30pm – Arrive at the church and meet and greet family from both sides.
2:00pm – Service gets underway.  I've never been to a Christening where there are two babies being Christened before.  Is that normal?…
Dan is now a Godfather!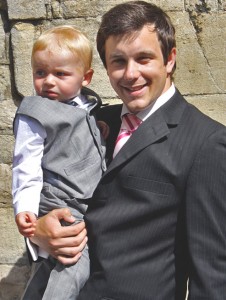 3:45pm – Meet at local snooker club for food and drinks and some of Dan's Mum's cake she made for the day…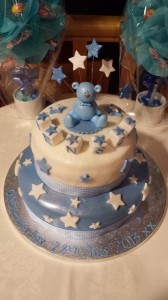 She really is very good and I have already nabbed her to make our wedding cake!
5:30pm – Head back to ours, get changed into running gear as I have a 105min run to fit in.
7:00pm – Head out for a run with Dan.
7:30pm – Dropped Dan off back at ours and exchanged him for my iPod and episode #8 of Marathon Talk.
9:00pm – Arrive back home for a quick shower – the second of the day – and finish packing for two days back at my parents.
9:30pm – Set off for Norfolk feeling incredibly tired.
11:30pm – Arrive at Mum's, grab a quick drink and my laptop and upload the day's results to our club website which I help manage.
12:00pm – Pass out exhausted in bed!