I had initally planned to run this race. In fact I paid my entry fee less than a week before hearing I'd been shortlisted for Operation Ultra. Check out this beautiful medal!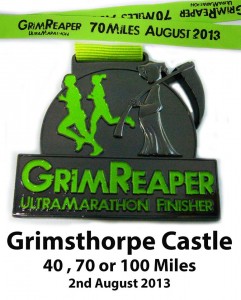 So fitting for our club. I think when Tracey posted the picture of the medal, entries from our club doubled that very day!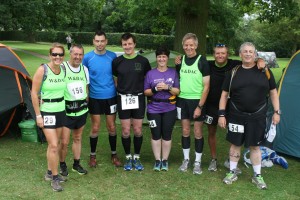 Altogether there were 10 entries from our club, 6 for the 40 miles, 2 for the 70miles and 2 more for the full 100 mile distance. I dropped out of the 40 when I knew that I had my place at Dusk til Dawn in October. This morning another club member had to drop out from the 40 with an injury. The remaining eight had a proper campsite set up for themselves including John's tent which could sleep the whole Green Army and Guy's tent which resembled something from a camping shop's display window.  He even had his running mags laid out on his pillow!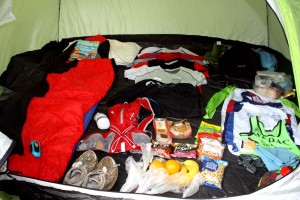 I found the race in the listings on Runner's World at the start of the year and it appealed to me mainly because of the laps. There would be no need to carry all my nutrition and no real navigation required on the day either as it would just be one big 10 mile lap repeated four times.
I was very jealous of everybody setting up camp and even more so when they actually began the race! The weather was perfect. Warm enough and dry enough for spectators, but at the same time with a bit of breeze and not overly hot to run.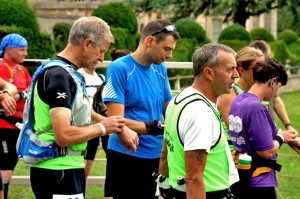 Everybody set their watches, we wished them luck and waved them off.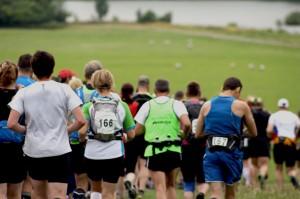 And then turned to realise that Stu was still trying to set his watch!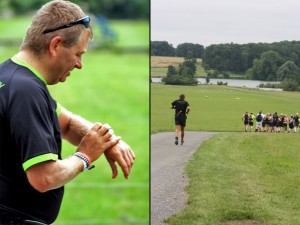 He caught up in the end though!
I had initially planned on marshaling the event but although I asked three or four times there was never anything for me to do so I resigned myself to sitting in Gillian's chair for the next hour and a half!
Our first two runners came in at around 1hr 40m but the lead guy completed the first 10 mile lap in just 1hr 18m! I wish I could race 10 miles that fast, let alone 10miles of an ultra!
Our club were spaced out between 1h 37m and 2h 23m by the end of the first lap.  All checked in at the campsite and most of them changed their tops before grabbing some food, water and going again.  By the second lap there was enough variage in times that they were coming through one by one gradually, giving us enough time to help them top up on water, have a quick chat and boost up before sending them on their way before the next one rocked up!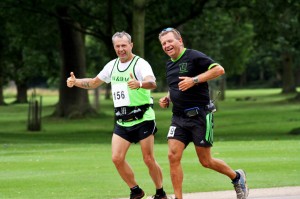 It was really helpful chatting to everybody about the food they'd brought along, their race kit, how they had trained and what worked or didn't work for them.  Everybody is not the same and I will not be shovelling down a curry mid-race as Kev does but at the same time probably won't be squeezing hundreds of gels in my mouth!Gillian advised testing out the baby food aisle at Tescos to see what was available and this could be an option!  (As long as I don't bump into someone I know whilst studying the back of an Ella's Cheerful Chicken and sweetcorn mash!)
After seeing everybody through for the second lap I was ready to head home and catch up with some of my own work, including picking up some honeymoon brochures!  I was feeling rather lazy by this point.  Everyone else had just run 20 miles!  So I said my goodbyes and reluctantly left the team at Grimsthorpe Castle.  Next year Grimsthorpe, I shall return…!