My Sunday mornings used to be full of long runs – week in, week out.  But then Dan joined a local football team in Peterborough which meant he was away for 2-3 hours on a Sunday afternoon – the perfect time to fit in my long run and still get a lay in in the mornings.
I say get a lay in.  I'm rubbish at sleeping in late.  Yesterday I got up and transferred myself to the couch with laptop at 5:30am!
Dan's still away until tonight so I set myself a big to-do-list [I LIVE by to-do-lists!] to work through over the two days he would be gone but planned on taking it pretty easy on Sunday morning, which I definitely achieved!
I nipped to Tesco for a quick shop after lunch as I had a stockpile of vouchers.  The best thing about Tesco vouchers is they are based on what products you've bought in store before so tend to be items you would buy anyway.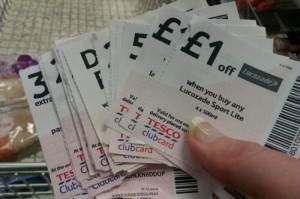 As I was queueing up to pay for my shopping I had the same thought I often have when doing my monthly shop.  'I wonder if people are judging me by what is in my trolley?'  I know when I was a teenager, working as a supermarket checkout supervisor I used to automatically  judge people on what they bought at the store.
This is not really fair and often not a true representation of what that person eats at home.  For example, my Mum NEVER buys fruit or vegetables – because she has a large vegetable garden where she grows all of her own fresh produce at home.
However, this didn't stop me from feeling like I had to justify everything I bought.  There was quite a lot of rubbish!  6 boxes of cereal, a bag of museli, four cartons of pop tarts (We like our cereal!)  Three multibags of crisps and two packs of Squares bars – Dan will pick at crisps or bars if I'm late home from work or a run.  Eight large chocolate slabs – to keep in the cupboard for baking.  Two bags of chips – I'm not a big fan of chips, would never cook them myself, but if Dan is home alone he will often have something 'with chips'.  More than half of my shopping was either food I wouldn't normally eat or food we only eat in moderation.  I promise there were some healthier items in there too…a bag of apples, some bagels, etc!
I had a similar thought on Saturday morning whilst completing my hill reps.  I was running hard for six minutes at a time up and down the hill before completing a recovery jog of two minutes through town and then repeating the whole process.  My legs were barely moving faster than a walk for my recovery and I was very conscious of just how slowly it must appear to others that I was moving.  I put my head down and crossed my fingers that nobody saw my shuffle-recovery blocks!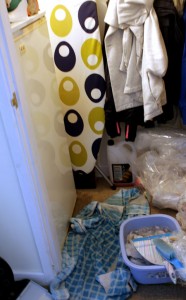 Yesterday had a two-hour long run on the plan which I ended up leaving until 7pm after a slight freezer-panic late afternoon.  (Door hasn't been sealing properly on the freezer so ice has been building up over the past month and when I defrosted it after shopping it actually took me two and a half hours, and then for a very long while didn't turn back on again.  :S  )  I knew we would need a new one at some point, but I think that point is over the next few weeks now. 

You can see in the photo the towel on the floor to mop up excess water (this was towel #3) and big washing up bowl filled with ice/melting ice!  I can now add 'defrosting the freezer' to my list of housework jobs I hate.  There it joins hoovering and mowing the lawn!
I felt great on my run and my pacing felt good – I kept the pace constant throughout whilst listening to Marathon Talk on my iPod.  This has been fantastic on my long runs recently!  I started feeling a bit weak about 90 minutes into my run, but still completed it, although in a slightly longer time than planned – in about 2hr 15min.  When I returned home I wasn't hungry at all but knew I needed to eat so grabbed a glass of milk and snacked on a bread roll with some potato and leek soup which I stirred some cheese into for some extra protein.  I turned the taps on to start washing up but suddenly felt very ill.  My head was very wobbily and my stomach hurt so I lay down on the sofa for a few minutes.  I tried again to wash up and managed to get through a few plates before starting to feel bad again so at that point gave up and went to bed.
I haven't had any problems with my training (touch wood) so I put it down to lack of sleep and fully intend on trying harder to lie in this next fortnight whilst Dan is off work.  I'm not very good at lying in so please wish me luck!  It would be rubbish if my training failed because I didn't get enough sleep!