Yesterday and today Dan and I have been back at my parents trying to sort out some wedding bits. At 2pm yesterday we had a meeting at the venue. When pacing out the marquee on the lawn we realised that our marquee will be the wrong shape for our tables. Dan then proceeded to draw up lots of diagrams on scraps of paper to illustrate this so rejigging of the marquee was required along with the panicked sketches!
At 4pm we met our photographer, Sylvia, who shot my Maid of Honour's wedding as one of her first photographic wedding sessions four years ago.  It was actually quite fun talking about our plans for the wedding with Sylvia and where and when we would like photos taken on the day.  With Sulvia we laid down our very first deposit for the wedding!  :S
Here is one of the photos she took of me and the bride, Hollie when she was at Hollie's wedding in 2009…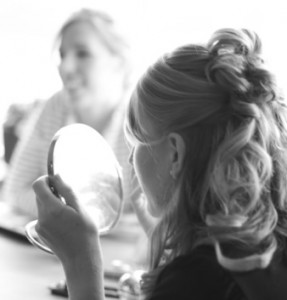 I love my hair in this photo and plan on booking up the same hairdresser soon!  She's been hairdresser both times I've been a bridesmaid, so I feel she knows my hair now and how awkward it can be!
After rushing round all day Dad pointed out that it was Sheringham Carnival day so after tea we headed over to Sheringham to watch the parade and then grab a few drinks and watch the band play.  It was a nice relaxing evening following a manic wedding-plans filled day!
Whilst back in Norfolk it was great to enjoy a 30 minute 'easy' recovery run somewhere different, although I'm not sure that Dan would use the word 'enjoy' to describe the run as he was heaving in a hedge 17 minutes into it!  We ran on tracks alongside fields and through the villages and it was such a lovely, sunny day.  We passed so many combines, and I wish I had had my camera out with me to capture the busy-ness of it all.
When we arrived back in Northamptonshire this evening I changed back into my running gear to head out for a progression run.  10mins easy, 10mins steady, 10mins threshold.  I started off very easy and the weather was ideal.  Warm enough for a t-shirt and shorts but with a nice breeze coming across the fields.  I didn't feel very confident that the pace would be particularly speedy having rushed around over the past few days and my sleep still not being 100% normal.  1st ten minutes completed at 11:00mm.  2nd ten minutes still finding it quite easy, but moving a bit quicker – completed in 10:18mm pace.  Final ten minutes I really pushed it and completed it at…wait for it… … … … …7:04 pace!  Woooowwwweeeeee!   Super speedy!  Not sure I have ever run that quickly before!  Fingers crossed I can repeat this at Parkrun on Saturday.  More details about our planned Parkrun adventure tomorrow…!