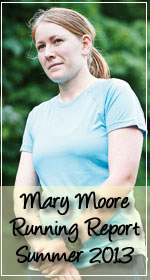 Mid – 2013 Running Report
Mary has worked hard at her running over the first half of 2013.  She has achieved new PBs in the 5k distance at Northampton Park Run, and also achieved a 15mile PB at Folksworth.  2013 has also seen Mary challenge herself and compete in her first Ultramarathon in June and win a place in 'Operation Ultra' to run a 50 mile ultra as part of a competition placed in Women's Running magazine.
Mary was rather disheartened at her slower marathon time at Milton Keynes in May as she put a lot of time and hard work into her training over the Winter. This unfortunately led to a knock in her confidence and she felt that she was unable to enter any of the shorter league races in the months following.  After the Dusk 'til Dawn ultra in October she should look ahead to book some shorter races before the end of the year to try and gain back some of that confidence she is still missing.
Her weakest areas are her flexibility and speed work and these are both areas which can be worked on over the coming months to produce  a stronger and more adaptable runner.  Ensuring that at least 20 minutes of each running day is spent stretching and that she keeps aiming to reach those toes!
Following the Operation Ultra plan written for her by Pheobe Thomas has already seen a massive improvement to her running and she has become so much stronger after the first five weeks.  With still ten weeks before her target ultra I can only imagine how much more her running will have improved by the end of the plan!

****************************
If I was taking running as a lesson at school, this is what I imagine my report would say.
As a teacher I write hundreds of reports every year.  In fact, this year I wrote 93 year 7 reports twice in a week when the school report system corrupted!  The advice I was given when I first started writing reports was to 'sandwich' the negative bits in the middle of the report, with positives at the beginning and end and to make sure you always give the student something to work on for the coming six months until the next report comes out.
I thought it might be quite a nice idea if other runners reviewed their running and set some areas to work on for their sport for the remainder of 2013.
If you're not a runner, how about a healthy eating report?  – What are you doing well and how can you improve over the coming months?
What to do?
* Write your 'Running/healthy eating' report and publish it on your blog.
* Include a link in your post back to here (http://www.ahealthiermoo.com/index.php/2013/08/03/linkup-my-running-report).
* Head back to A Healthier Moo and click on the 'Add Your Link' button at the bottom of this post.
* Follow the instructions to add your post to the linkup.
* Visit someone else's post and give them some encouragement/support for the challenges they are setting themselves.
* Review your report in a few months time and see if you have managed to achieve what you set yourself and look back at how much you have improved.
(The link will be open until the end of August, so you don't need to write your report straight away.)