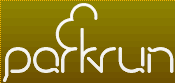 Saturday saw me heading down to Park Run with Dan.  Originally, two of his ushers and his best man were also coming as they were going to be here for Dan's birthday at the weekend.  So it was going to be a big 'Park Run off' between us all but the other guys chickened out at the last minute and it ended up being just Dan and me.
Dan drove and as we got in the car, remembered that he had to get petrol, so we were a bit later than planned getting there (arriving at about 8:58am) and had a quick warm-up jog to make it to the start line as the race director gave her pre-race briefing.
As I arrived at the start line I realised I hadn't set my watch going to find satellites.  Come on watch!  Please find them quickly!
Countdown…3…2…1…Still no satellites. 

  I kept an eye on my watch as the group surged forward.  There was a massive field of runners on Saturday (225 finishers) so I started on the grass along with several others.  The start line was very spread out.  Starting on the grass meant that we filtered quickly into our places, rather than getting stuck behind slower runners and trying to weave our way through to find the best spot to run in.
I kept checking my watch every 20 or so strides, but after completing the first width of the park, I realised it would be worthless starting my watch off now anyway so ignored it the rest of the run.
It felt wierd not 'knowing' how fast I was going and I ran on feel and position of people around me more than anything else.  I always find it interesting how you end up running near the same people each time, and it's nice to see everybody improving over time.
A boy, about 9 years old was my unofficial pacemaker for the majority of the race.  I meant to congratulate him on such an even run at the finish but I lost him in the barcode scanning area.
I didn't want to push too hard as I was unsure just how fast I was running, and I was also conscious that after finishing Park Run I had another 30 minute easy run to complete from my plan, so didn't want to use up every scrap of energy I had on the Park Run!  At the same time though, I was aware that I wasn't finding the run particularly hard.  My breathing was relatively relaxed, my stomach was fine (after a panic pre-race!) and if anything I was actually a little bored.  I desperately wanted to talk to the runners around me or listen to a podcast and zone out for a while.  I've missed the company on runs lately and the social aspect of being in a running club.
I kept listening out for Garmin beeps, but it appeared that no-one around me was wearing a watch so I didn't really even have a proper idea of the miles passing.  About 10 mins ish in I passed one of the ladies from my running club who trains in the training group below me.  I usually finish about 2mins ahead of her so I knew I was roughly on target.
With about 10 mins still to go I decided that I would use Paula Radcliffe's tactic of counting strides to keep myself focused on the remainder of the run and counted to blocks of 120.  In the spur of the moment I  couldn't remember how many steps it is that you are supposed to take per minute whilst running but 120 steps seemed as good as any to count to and I got to ten blocks of 120 before the finish.  I still had a lot of energy in me for a long sprint finish, passing four people just before and inside of the finishing funnel before crossing over the line.
Dan headed over to meet me, and it turned out that he had dropped out halfway due to pain in his leg so headed back to meet me at the finish.  I laid down on the grass to catch my breath and Dan asked how I had gotten on.  I showed him my watch to demonstrate the lack of satellites it had found and at that very second it beeped to let me know it was ready for me to begin my workout.  GAH!  Dan thought that I had been about 27 minutes ish going from his watch but nothing was definite until the results came through later in the day.
Turned out I came in at #135/225 in a time of 27:48.  Not a PB but still sub 9mm.  I knew I could have run faster and wasn't actually too far off some of the times I was getting mid-marathon training at the start of Spring.  I had been worried that with my recent ultra training I would have lost a fair bit of speed but this was obviously not the case.  Yay!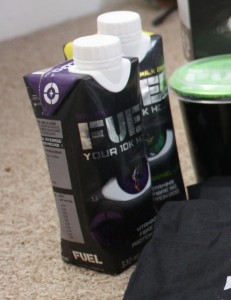 As soon as we arrived back at ours I leapt out of the car and headed off for a steady 30 min run over the fields, running just short of 3 miles which I really enjoyed.
A quick shower, change, pack and I was off to my Mum's for the rest of the weekend.  I grabbed a carton of Chocolate breakfast Fuel for my drive home which I had put in the fridge to cool down before my run.  I was really surprised at how strong the taste was.  The drink was really sweet.  It was also really filling, which was good as I often get very bored on the drive back to Norfolk and find myself picking at food on the way just for something to do.
I've also begun listening to Marathon Talk podcasts on the journey.  They are no longer reserved just for my long runs!