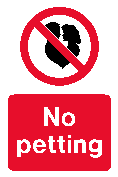 Unable to run yesterday I resorted to the next best thing…a doughnut followed by swimming and some stretches.
As I've mentioned in the past, our swimming pool has the most ridiculous signs and far too many of them for them to actually mean anything.  During my swim today I cast my eyes over signs for 'No diving', 'No eating', 'No running', 'No urinating', 'No pushing', 'No bombing', 'No inflatables', 'No glasses', 'No non-swimmers past this point' and 'No shouting' among others.  My favourite ridiculous sign of all being 'No petting' which always makes me laugh but at the same time worried about swimming up near to Dan in the pool!
In 2008 I was hospitalised with gaulstones and Dan was visiting Me one afternoon in hospital when he leant in to give me a kiss.  One of the older nurses told him to get up off my bed immediately and he must not display that sort of behaviour in a place such as the hospital.  She said it in such a way it made me extremely nervous when he came in to visit and I couldn't wait to be discharged!
It felt great to be at the pool yesterday.  Even though it's the Summer holidays the pool wasn't really very crowded and we spent a couple of hours in there.  Doing a few lengths, then stopping for a chat and a breather, (although never getting too close to each other obviously!) treading water and then going back to doing a few more lengths.
In a running book a little while ago I read about Deep Water Running being beneficial to runners and helping to minimise/recover from injury.  I'm pretty sure that I read a story of somebody having to take the last month off from running before their marathon due to an injury, and concentrating on deep water running instead to retain their fitness, still coming away from their marathon with a PB.  I didn't have a 'floatation device' to hand, but I imagine that treading water would also have done me some good.
When I was working as a restaurant manager my main form of exercise, other than walking was swimming, and I used to go to the pool a couple of times each week in the middle of the day when it was nice and quiet and I could get some lengths in.  As a teacher, the pool tends to never be quiet when I am free to go – always filled with kids dive-bombing off the side!  Hopefully, working part-time next year will mean I can fit in a few more swims.
I could really feel that I was using my arms in the pool workout yesterday and it made me realise just how weak they have become again.  It's been too long since I did any other form of exercise than running or walking.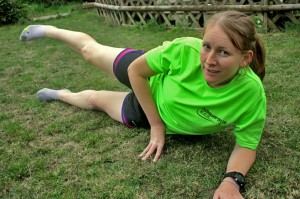 After swimming I also fitted in 40 minutes of stretching.  The two stretches Phoebe sent over, the belly twist move that Lucy let me know about and the hamstring stretches that Paul let me have at the beginning of my plan.  Whilst I was stretching, I listened to the most recent Marathon Talk podcast, with the guest speaker as Laura Fountain, or Lazy Girl Running.  Go have a listen if you haven't already.  Laura has gone from a 4:31 marathon time to a 3:38 Good For Age time, written a book on her experiences and organised the fantastic Write This Run with Liz Goodchild.  Very inspirational!
Now I just have to cross my fingers that I have been good enough with my stretches, lack of running and cross-training that I can begin to run again this evening!…  I've only had two days without running but I already feel like I will have forgotten how to do it!
Here's the extra reference: Commercial Lake Maintenance & Repair Company | Lake Management Inc.