GAH!  I was allowed out for a 30min easy run yesterday evening to see how my hip was feeling.  My hip was great!  Didn't feel any of the problems that I could feel at the weekend, but ten minutes into the run I started to feel a little twinge in my right glute, and although I could then feel this for the rest of my run it wasn't really restricting my running, or causing me any real pain.  It felt AMAZING to be running again.  How did I get so addicted all of a sudden?  I've always enjoyed running, but the past few months I have been really addicted and have missed running properly the past few days.  I emailed Nick and Phoebe to keep them updated and they encouraged me to take another rest day today with lots of stretching and bum massaging before testing the waters with a 45 minute easy run tomorrow.
To keep my mind off of not running during the day yesterday we headed out to Beckworth Emporium for some lunch.  Laura from club snapped this picture of her amazing dinner there the other day and I had to go and check it out for myself.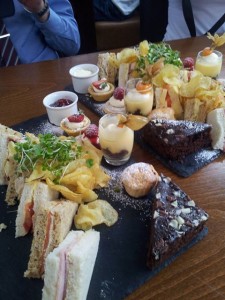 Although when we got there, Dan decided that it contained too many salady items for him and that he wouldn't share it with me. 

  Yes, I am trying to live healthily whilst dating a salad-dodger.  It is incredibly difficult, but usually means I get to munch on his side-salads whenever we eat out!  And him not sharing with me means that I have an excuse to visit again sometime soon with someone else!  Anyone wanna come visit?!
It was a lovely sunny day yesterday so we got a table outside for our lunch and I decided on a mozzerella, chicken and pesto panini in the end, which I then promptly swapped the chicken for Dan's side-salad.  (I definitely had the better deal!)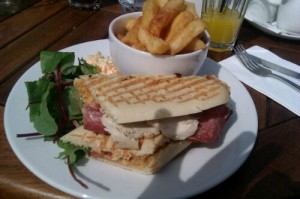 After lunch we wandered around the Emporium for a bit.  It has some lovely quirky housey/garden items, flowers and farm shop items and if I had the money I could spend a lot in there!
I thought it was rather quirky how you could buy frozen vegetables by the bag.  You put the number you want in a clear bag, get them weighed and then purchase them at the checkout.  You could even buy yorkshire puds this way!  It was the grilled and roasting vegetables I was most interested in though.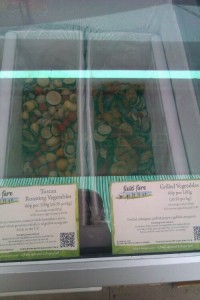 We also took some pictures of yellow/orangey flowers that are possibles for using in our wedding next year.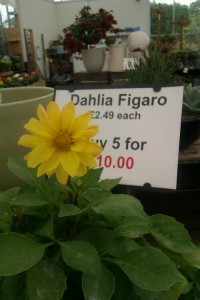 All next to their price tags, so we remember the names of the plants!

I got this email from Dan on Tuesday night.  NOT the sort of email you want to be receiving from your future husband!  Luckily, STD also stands for Save the Date and this was our finished design for our postcards!  We had finished designing and ordering our Save The Date cards from Zazzle.  We ordered 60 Postcards which came to £36 in total.  We decided on postcards mainly due to cost in the end, although considered lots of other elaborate ideas along the way!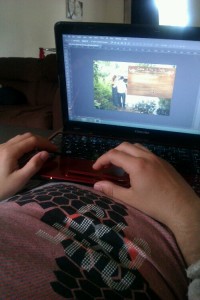 I'm hoping they will arrive soon.  Wedding planning has taken my mind off of not being able to run over the past few days and we are heading down to London tomorrow afternoon to catch up with uni friends so would be able to hand out lots of them there.  Almost a quarter of our wedding guests will be there!