The 45 minute easy run on Friday morning started out great!
It took me forever to get ready to head out.  I think I was holding onto hope as long as possible that I would be OK after this run and that I could settle straight back into my training program.
Eventually I got out there, and felt AMAZING!  I checked my watch.  It was only 4 minutes into the run…thought I should probably give it a little longer…Desperately tried to slow myself down further.  10 minutes into the run…FANTASTIC!  This is where it all went wrong the other day…Better give it a little longer.  15 minutes in and along came what is starting to now feel familiar – the discomfort in the right side of my upper bum!
I let Nick know, who advised cross-training for two hours on both Saturday and Sunday.
So Saturday afternoon after returning from London and a uni reunion I got changed and headed to the pool for the second time this week.  By the time we returned from London the only swim session I could get in for was 'General Swim' (code for: Includes hundreds of kids).  As it was Dan's birthday on Saturday, I didn't drag him down with me, but instead let him slob out on the sofa infront of the football.  What a lovely girlfriend I am. **
However, when I arrived I regretted not bringing Dan instantly.  The pool was incredibly busy and there was possibly a 73:1 child to adult ratio in the pool.  I took a brave step and moved to the lanes at the far end of the pool.  I've always avoided these; being put off by the terms 'fast lane' and 'medium lane' written above the end.  Where is the 'slow and awkward' lane?!
I coped though.  I swam about ten lengths, occasionally pausing at an end to let another swimmer overtake me.  (OK, that happened frequently!)  I was having hairband issues – it kept falling out of my hair and there were so many kids splashing near to the lanes that I was continually getting chlorine water in my eyes – not good for vision when you wear contacts.  I needed a breather so pulled out of the lanes for a few minutes.  Phew.  Erm, what do you do for a break in a pool when you're not with anybody?  When I was with Dan I could mess around or just sit in the shallow end and chat to him.  Now I was the creepy person that went to the pool alone and then sat in the kid's shallow end looking uncomfortable and exhausted.  My break didn't last too long before I headed back under the divider and swam some more lengths.  I swam 32 'official' lengths and then did some freestyle stuff in the main pool and treading of water before jumping out a little before the pool closed.  I hate when the changing room is completely full and all of your clothes fall on the floor because there is no space for them on the changing bench.
I had to keep challenging myself to do 'just one more length' because I found it very dull travelling from one end of the pool (incredibly slowly) to the other.
This is probably the last known picture of me in a swimming costume, back in 2009…although I am clearly NOT swimming!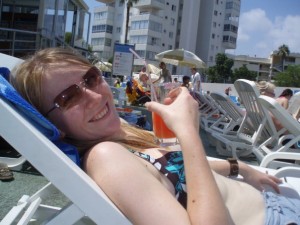 Friday night's reunion in Kentish town was something I've been looking forward to for a long while!  It has been the longest time since everybody that I went to uni with got together.  Most of my friends at Staffordshire University were the year above me.  I started in 2004 and whilst we were on our way down to London with our friends Vicki and her boyfriend Alex, Vicki pointed out that in September it will be TEN years since she started uni.  That made us all feel very old!
There ended up being 19 of us with various partners included too and we had a house party in the smallest flat in the world, which is always the best sort of catchup.  The smallest flat in the world luckily had a roof-top terrace where we held the BBQ, and at the end of the evening 10 of us ended up staying the night in various positions on the floor/around tables/behind doors, etc!  Oh how I have missed being a student!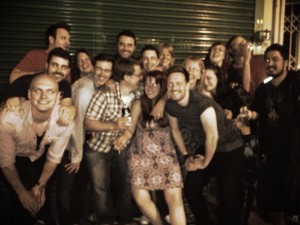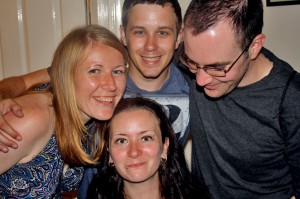 And I had to include this photo just to show how tanned I look!  I haven't been anywhere, just (apparentally) sunny Northamptonshire!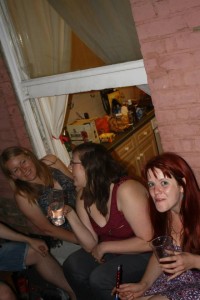 ** PS.  I'm not that great.  Look what happened to the birthday cake I bought him…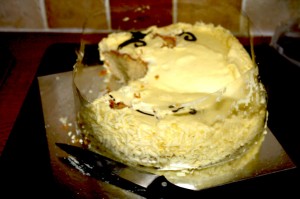 I left my friend's boyfriend in charge of hiding Dan's cake when we got to the flat in London.  Unfortunately his 'ultimate hiding place' was on the floor, where someone slept.  Luckily it's still edible, (as shown by the slice missing) just incredibly messy!