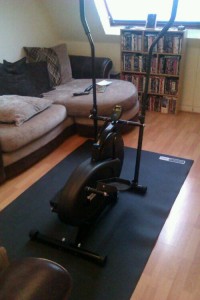 Another hour in the pool yesterday afternoon.  This time Dan came along too and I swam 40 lengths before getting bored.  I went knowing that I wanted to complete 40 lengths and made myself continue until they were complete!  I also discovered that my arms are the weakest, least muscley part of me as when I woke yesterday morning I could barely lift them above my head they were so sore from swimming for an hour on Saturday!
Nick had suggested that whilst not being able to run over the weekend that I swim for an hour, cross-train for an hour and stretch/massage/complete core-work for a third hour each day.  So that is what I did.  He had suggested heading out on a bike as the cross-training, but I didn't have access to one yesterday, so ended up calling my friend Vick who had literally bought a new cross-trainer that morning and after grabbing a quick dinner headed over to Peterborough to work out at her house for an hour.  She had placed the cross-trainer in the middle of their lounge.  Great for Vick as she can watch TV whilst she works out but I imagine it will be pretty annoying for her boyfriend whilst he is trying to look around it to watch the footy!  It was also great for me as they could both lounge around on the sofa and have a catchup with me whilst I worked away for an hour last night!
Despite my happy expression here, do not believe that I was enjoying this workout!  Although it was nice having someone to chat to whilst I was on the machine.  I found it pretty easy and if Vick and Alex hadn't have been there would have struggled mentally to carry on going.  I have never understood how people can work out cardio wise in the gym every day.  It would be way too dull for me!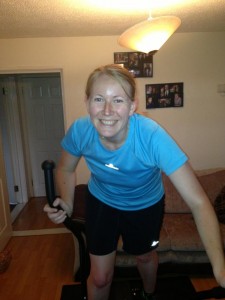 Vick bought her cross-trainer as she has decided to go on a health-kick for her upcoming wedding and wants some help from Me to get motivated.  She has asked if I knew on the grapevine of any reasonably priced bridal weekend bootcamps in the UK.  I don't, but is there anybody out there who does?  I have said I would consider going with her too.  I reckon it could be pretty fun and I would probably learn a bit along the way too.  It would have to be after Operation Ultra though.  Running is always going to come first for me!